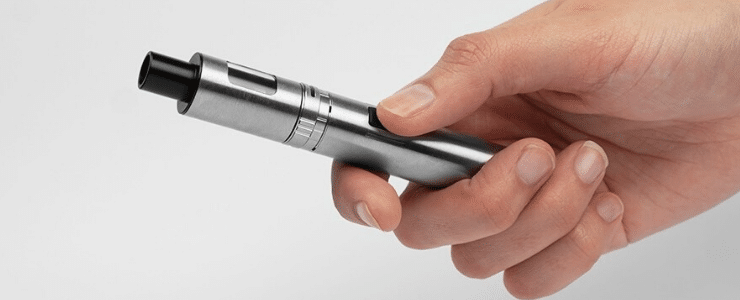 The JAC Vapour brand was first established in the UK in 2010, and over the last decade, the brand has grown into one of the UK's biggest retailers.
All of the company's designs are done in-house, and the product range extends from beginners' vaping kits up to advanced mods, as well as an impressive selection of e-juices.
The Series S17 Topfill is one of this brand's pen-style vaping devices which is ideal for anyone who is transitioning from smoking cigarettes to vaping.
With its compact size and its precise engineering, it could be the perfect starter kit for you. 
Jac Vapour Series-S17 Kit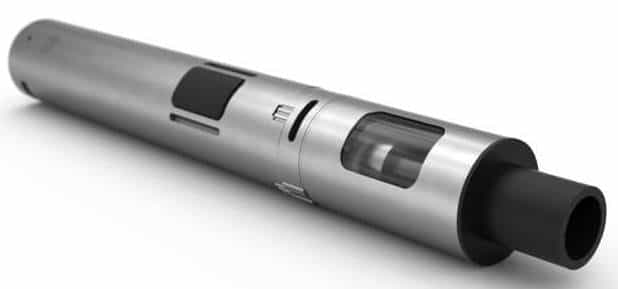 This UK-designed device measures 116mm in height and 17mm in width, making it a very portable and convenient vape pen for use on the go.
Its top fill design makes it swift and simple to refill on the move too. You can refill this pen-style vape in just 10 seconds. 
The kit comes with a 1.0-ohm coil head and a rechargeable 900mAh battery.
This vape device features adjustable airflow and is both MTL and DTL compatible, so you can vary your vaping style to suit your preferences.
With a minimum resistance of 0.5-ohm and a maximum voltage output of 4.2 volts, this device can be charged at the same time as being used thanks to its pass-through functionality.
It is also very safe thanks to its many inbuilt protections including protection from overcharging, high amp draw, and short-circuiting.
Inside the box, you'll find the Series S17 TF 900mAh battery and the matching top-fill tank as well as a 1.0-ohm MTL coil, a simple to understand user manual and a charging USB cable.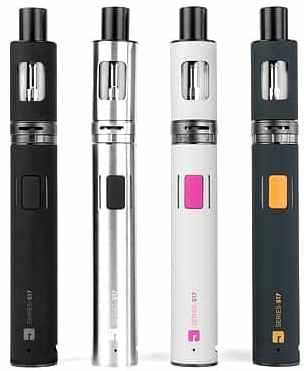 When you need a small and convenient vape pen that's great for use anywhere, the Series S17 TF is sure to fit the bill.
Even with the tank attached, this device is small enough to put in your pocket, yet with its steel alloy body, it's strong and durable enough to take anywhere without worrying about drops and falls.
The exterior of the device has a rubberised finish to ensure optimal grip when vaping.
The fire button is well-located and is the right size, so you'll have no trouble using it.
There are also two lights on each side of the fire button so you can see how much battery life is remaining at a glance before you'll need to recharge.
On the base, you'll find the airflow control to adjust your vape to suit your preferences.
The whole design is very user-friendly and has been made with the needs of beginners in mind to make the transition from smoking cigarettes to vaping much quicker, easier and more effective.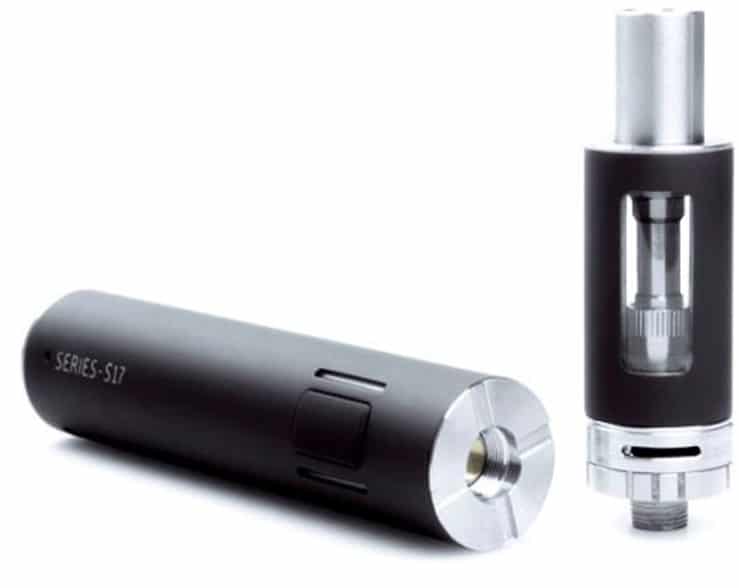 This device comes with a 1.0-ohm atomiser head designed for vapers who prefer an MTL-style vape.
You can, however, purchase 0.5-ohm coils from Jac Vapour separately that are ideal for DTL inhaling.
If you use a 0.5-ohm coil with this device, you can enjoy surprisingly good vapour production considering how compact it is.
There are plenty of subtle flavours, and the vape experience is a smooth one.
Although the airflow is quite resistant, even when wide open, this only improves the flavour.
The 1.0-ohm MTL coil that comes with this device lasts a long time – up to 7 weeks in some cases.
Since the average lifespan of an MTL coil is around 4 weeks, these ones are great value for money.
They also produce some seriously impressive flavour.
If you choose to buy the 0.5-ohm coils separately, you'll enjoy even more vapour when used with a high VG e-liquid but they won't last as long as the MTL coils.
This device operates with just a single 900mAh battery, so you can't expect the longest lifespan or the highest amount of power.
On the upside, though, you can vape while the device is charging, so you won't need to worry about downtime. 
If you prefer to vape mouth to lung, you'll find that the battery lifespan will be considerably longer than if you choose to sub-ohm vape.
Depending on how frequently you vape, you may be able to get as much as ten hours of usage before needing to recharge the battery.
You should certainly get many hours of use, even if you're a chain vaper.
On the other hand, if you're planning on sub-ohm vaping, you won't be able to get much more than three hours of heavy use out of the battery. 
Pros:
Pass-through charging is possible, so there's no downtime

The 1.0-ohm coil lasts a long time and is great for MTL vapers

You can buy 0.5-ohm coils separately to experience sub-ohm vaping if you prefer 

The cloud and flavour production is very good 

This is a compact and portable device, ideal for use on the move

A well-located fire button that's easy to use

Simple top-filling design for ultimate speed and convenience 

The rubberised finish makes it easy and comfortable to grip the device
Cons:
You have to purchase the 0.5-ohm coils separately

If sub-ohm vaping, the battery life is much shorter

The airflow is quite resistant
If you're looking for a great value starter kit that doesn't compromise on either style or quality materials, you're sure to like the JAC Vapour Series S17 Topfill.
This device is made from strong and robust materials and offers great performance.
If you're an MTL vaper, you're going to be especially impressed by the battery life of this vape pen, but since it also gives you the freedom to experiment with DTL vaping it could be a great way to extend your vaping experience when you're a novice.
This is a user-friendly device designed with the needs of beginners in mind, and thanks to its convenient, top-filling construction, it couldn't be simpler to get to grips with.