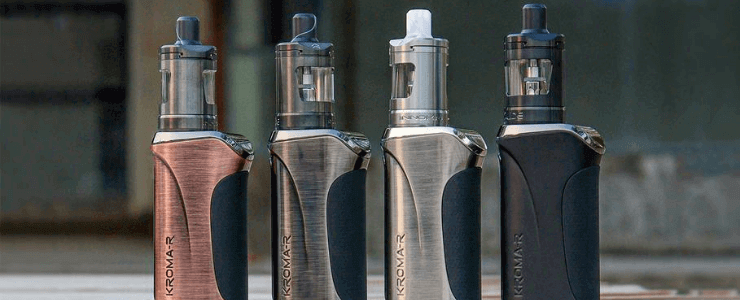 When you prefer MTL vaping, you're sure to love the Innokin Kroma-R Zlide kit.
Designed with the needs of mouth to lung vapers in mind, this stylish device from the popular Innokin brand doesn't just look good, but it also packs a powerful punch, with a range of features and a choice of modes to help you customise your experience to your preferences.
However, don't be deterred if you're a DTL vaper – this is a versatile device that is sure to hit the spot, whatever you enjoy.
Innokin Kroma-R Zlide Kit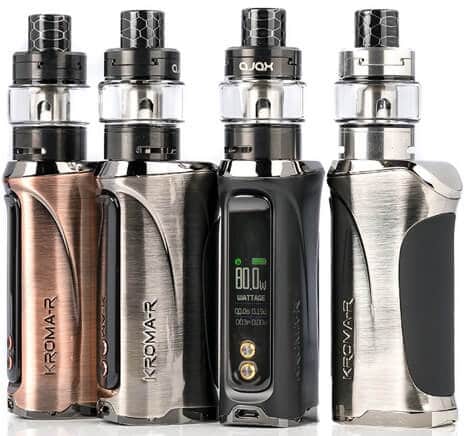 As the latest addition to Innokin's popular Kroma series, this device is sturdy, stylish and elegant while also boasting impressive value for money.
This kit comes with not only the Kroma-R box mod and the Innokin Zlide tank but two coils to suit different vaping styles.
The pre-installed coil is the Innokin Z-PLEX3D 0.48-ohm mesh coil; however, a Kanthal 1.6 ohm coil is also supplied for a little extra variety.
You'll also get a warranty card, a user manual and a charging micro USB cable in the box.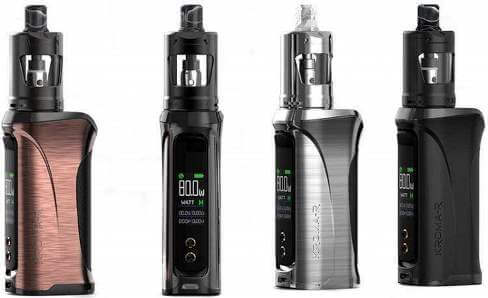 This is certainly a well-built mod that is made from quality materials. There is a choice of colours to pick from, with matt black, gun metal, bronze and stainless steel being four options.
Each device features a rubberised grip to help you avoid accidental drops and falls, and the metallic accents surrounding the buttons serve to add even more sophisticated style.
Measuring 81mm x 40mm x 26mm, this is a slightly larger device than many of its other rivals, and it also weighs a little more at 187g when the battery is attached.
The width of 26mm also means that this mod is only compatible with atomizers of up to 25mm if you want to avoid an overhang.
Nevertheless, it's a well-designed device that is still compact enough to take anywhere, and its ergonomic shape allows it to fit perfectly into your hand for the most comfortable vape.
There is a large and bright colour screen which serves dual function as a firing bar. It also has an ergonomic design that makes it comfortable to hold in your hand for use on the go. 
The Innokin Kroma-R kit can be used with a wide range of compatible coils, so you can customise your vaping experience to suit your preferences, whether you're a DTL or MTL vaper.
Thanks to the convenient airflow design, you can easily adjust your draw to your preferred level of restriction, and with adjustable power, you can enjoy the amount of flavour and throat hit that you desire.
Although the flavour produced by this device isn't the best, it's still enough to satisfy most vapers, and the cloud production may not be excessively thick, but it's warm and pleasant.
Powered by just one 18650 battery, the Kroma R mod provides a number of useful modes that include variable voltage, variable wattage, custom curve mode, bypass mode and taste mode.
These options enable you to easily adjust your power output between 6 watts and 8- watts and allow the device to fire at an ultra-fast speed of 0.003 seconds.
You'll also find the bright, large OLED screen displaying the key vaping data clearly so you can see your battery indicator, wattage, voltage, resistance and puff counter at a single glance.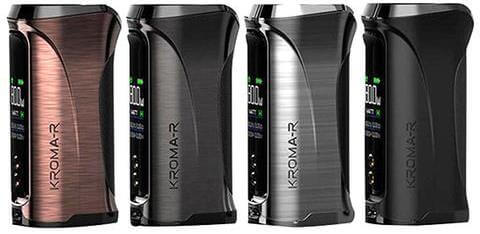 The Kroma-R mod uses a single 18650 battery, which is extremely powerful and ideally suited to all-day vaping, whether you're a DTL or MTL vaper.
This mod enjoys an impressive battery life. Even if you vape at the maximum wattage, you can still enjoy more than a day of vaping if you're using a sub-ohm tank and as many as three days if you're using a standard coil.
Charging your battery is quick and efficient, and since the batteries are removable, you can charge them outside the device or inside it to suit your needs.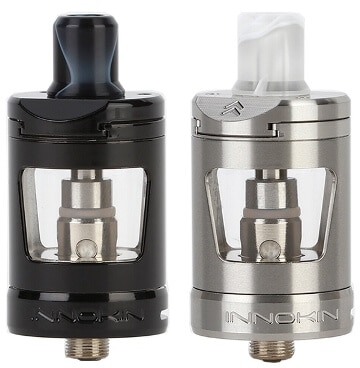 The Zlide by Innokin is a well-designed MTL vape tank that is the Zenith tank's successor. The Zenith experienced a number of issues which have now been resolved in the Zlide.
Capable of holding up to 2mls of your favourite e-juice, this tank has a sliding top filling design to make it even simpler and quicker to refill your device.
It has a comfortable drip tip and a replaceable glass tank for extra convenience, while the airflow is virtually identical to that in the Zenith tank, allowing for both a very loose and a slightly loose MTL vape.
You'll also find this tank comes with two coils – a 0.48-ohm Z-Plex3D mesh coil and a 1.6-ohm Kanthal coil for better flavour.
You can also use this tank with all of the various Z-coils in the range to customise your vape experience to your preferences.
The Innokin Kroma R kit is well-designed and offers a host of advantages for vapers of all kinds, but there are a few negative points to consider too.
Pros:
Top-quality build

Ergonomic design

Stylish and aesthetic good looks

Bright, large OLED colour screen

Easily navigable menu

Well-designed Zlide tank

Great for MTL vapers
Cons:
No temperature control mode

Only compatible with tanks up to 25mm with no overhang
When you need a high-quality starter kit that offers impressive flavour and stylish good looks, the Innokin Kroma R kit is a perfect choice.
Made by one of the most popular vape product manufacturers on the market today, this mod and tank combo is a reliable and trustworthy choice, and you can be confident that it's designed and manufactured to the highest possible standards.
Its aesthetically pleasing design is paired with outstanding building quality, while the large and bright OLED screen couldn't be simpler to operate.
Its sleek and compact design allows this device to fit perfectly into the hand for use anywhere, and the high-performance tank that comes supplied with this mod boasts plenty of features and modes to customise your experience to your preferences.