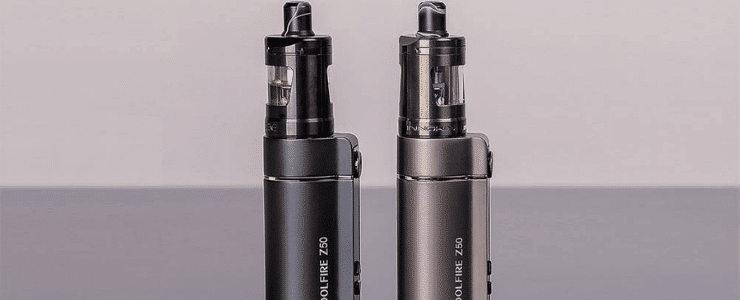 Innokin is a company with a long and prolific history in the vaping industry. A company founded in China all the way back in 2011, Innokin has been creating, adapting, and improving vaping technology for the best part of a decade.
This Coolfire Z50 is Innokin's newest iteration of the Coolfire line of vaping kits. And whilst the Coolfire Z50 may seem somewhat basic on the surface, there are several tricks up its sleeve.
In particular, this vape kit utilises the newest Zlide tank. Keep reading to find out how this kit stacks up amongst its predecessors.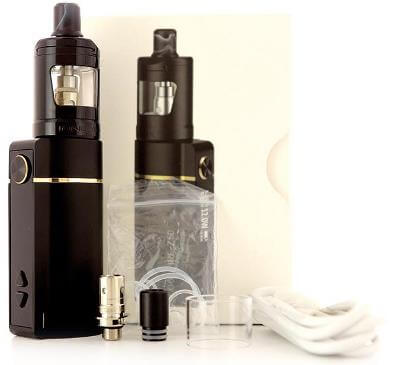 From the offset, this kit feels weighty and substantial. It really does feel like a quality product straight from the get-go. An elegantly presented outer box is slid aside to reveal a minimalist white box underneath that oozes class.
Simply lift the flap and behold the contents inside. The Coolfire Z50 mod and Zlide tank are the most obvious things you'll notice when you open the case, but there are plenty of extras included in this kit.
Both a 1.2-ohm coil and a 0.8-ohm coil are included, the 1.2-ohm coil being pre-installed in the device. A spare O-ring set is included as is a spare drip tip and one replacement glass tube for the tank. A micro USB charging cable is also provided.
The mod itself outputs around 6-50 watts and has a 2100mAh battery that is held internally. The maximum output of this device is 20 amps.
The mod has a 0.69-inch OLED display screen built-in. The thread used throughout the kit is 510. There are several available colours for this mod, depending on availability: black, stainless steel, blue, gunmetal grey and pink.
All in all, this is one hefty kit that is sure to give you a more than standard vaping experience.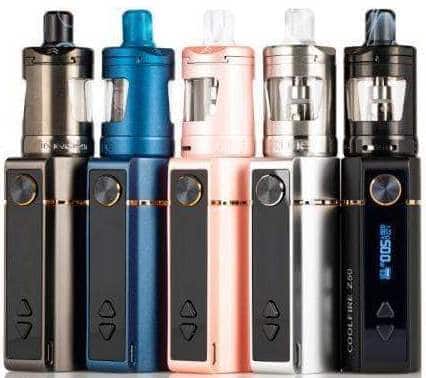 As previously mentioned, the Coolfire Z50 kit comes in several colour options. If you are looking for a subtle yet sleek design then perhaps the gunmetal grey, stainless steel or classic black colour options are for you.
On the other hand, why not introduce a splash of colour into your vaping experience and choose pink or blue options. As well as being presented in a very elegant way, the kit itself follows suit, being subtle yet effective in its sleek matt design.
The tank and mouthpiece in this kit are especially stylish, using a slight twisting design. The whole kit overall just feels like a sturdy piece of hardware that will not easily break in your hand.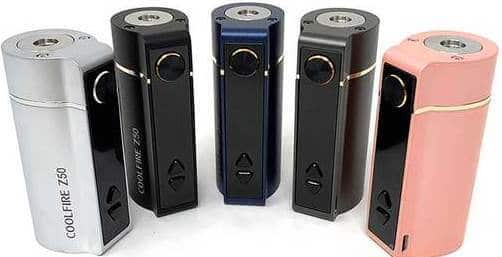 It takes virtually no time at all to figure out how to operate the Coolfire Z50 mod, even without reading the instruction manual provided. This is primarily due to the basic nature of the mod.
A wattage and voltage mode are both included, allowing you to adjust either, but in terms of other output modes, this particular mod is rather lacking. But this mod will do everything you expect of an affordable contemporary vaping device.
A puff counter is present, and an airflow control option is present, albeit on the physical tank of the device.
The basic functionality and simplicity of this mod make it an ideal starter kit for newcomers as there are no additional modes to confuse the user immediately and intimidate them.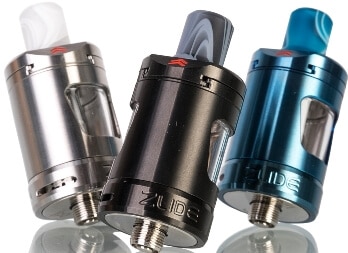 The Zlide tank is named after one of its key features, its sliding top-fill system. All users need to do is slide the top cap off and use the top-fill system to enter your desired e-juice.
This system interlocks with the modified 510 drip tip included in the kit to ensure that no e-liquid is spilled from the device. The threading used throughout the tank feels incredibly smooth.
Changing coils with this tank is relatively simple and easy, just unscrew them, carefully remove them, and screw the new coils into their respective bases. The coils included in the kit are fairly well made with decently sized wicks.
The airflow control is located directly on the tank, making adjusting the control easy. The tank's glass tube can also be replaced easily, taking very little effort to remove the tube from the cage. The silicone material around the tube ensures that everything is sealed up nicely.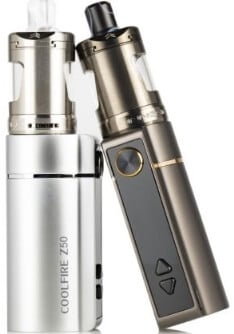 We have found that in order to receive the best vape performance possible, you should use the following parameters. Use the pre-installed 1.2-ohm coil, it is surprisingly great and is clearly pre-installed for a reason.
Set the mod to nine watts and take a hit. In just a fraction of a second, a high-quality and high-powered vape should hit your mouthpiece. To receive a more flavourful and fuller vape, bump up the wattage to around twelve.
With the airflow entirely closed off, you are able to receive a tight mouth to lung vape. When the airflow is fully opened, a direct lung hit can be had.
Whilst the 1.2-ohm is likely to give you the best vaping experience possible with this kit, the 0.8-ohm coil included in the set is also fairly effective, especially at higher wattages.
This vaping device should provide you with a good if somewhat basic vaping experience. Vape veterans may be left wanting more from this Innokin device due to its lack of wider features and functionality, but newcomers are sure to have a satisfying experience.
Battery Life and Charging
The battery included in this kit is a 2100mAh cell that is held internally within the device. The average battery life is around two full days of regular use.
If the 0.8-ohm coil is used, then the battery life is inherently improved slightly. Charging this particular mod is not all that great as it seems to take quite a long time for it to reach full charge when compared to other vaping devices available.
There are also no battery vents to prevent overheating so you should remain vigilant when charging the mod. A micro USB cable is included in the kit.
Below are some of the pros and cons we have found with this particular kit:
Pros:
Simple yet stylish design

Feels weighty and substantial

Easy for newcomers to get to grips with

Easy to use top-fill system

Interlocking "Zlide" design that stops e-juice leakage
Cons:
No advanced output mode options included

Mod is prone to overheating when charging as there are no battery vents
Generally speaking, this Coolfire Z50 kit is a fairly standard vaping option. Whilst it does not provide any advanced output modes that vape veterans may be accustomed to using, it does provide a simple starter kit experience for newcomers and a good one at that.
The overall performance of the device should be commended regardless of additional features. Just keep an eye on the device while it's charging to ensure that it does not overheat.