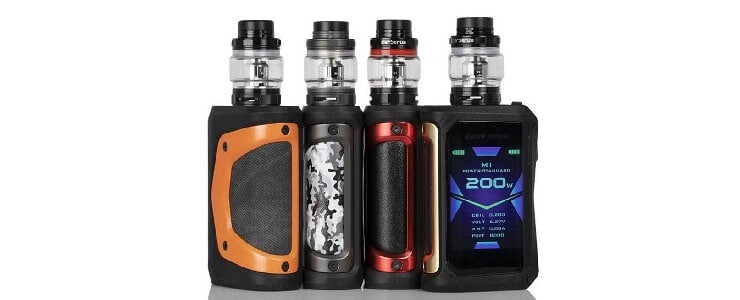 Geekvape is a brand that's known for its great box mods, and the Aegis X 200W is another device from its impressive range.
Boasting plenty of innovative features, this mod has all of the reliability and ruggedness you'd expect from the Aegis range.
With its impressive safety and performance features, you're not going to be disappointed if you invest in this device.
Read on to learn everything you need to know about the Geekvape Aegis X 200W. 
Geekvape Aegis X 200W Kit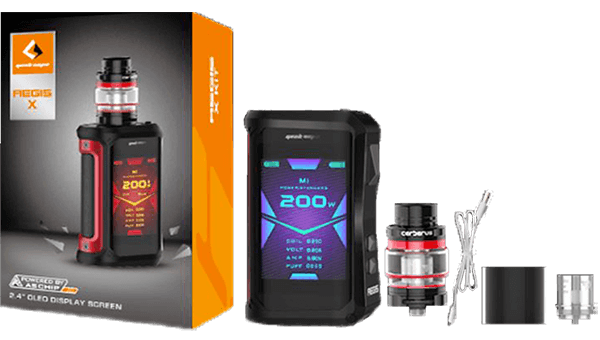 From the moment you open the box, you're sure to appreciate the attractive design of the Aegis X.
This model is similar in design to the Aegis Legend, but it has one major difference – the huge 2.4" OLED colour screen on its side.
The kit also comes with the brand's Cerberus tank and a USB charging cable so that the firmware can be updated.
You'll also find a screen protector, mesh coil and a spare glass in the box together with the user manual that tells you everything you need to know about your device.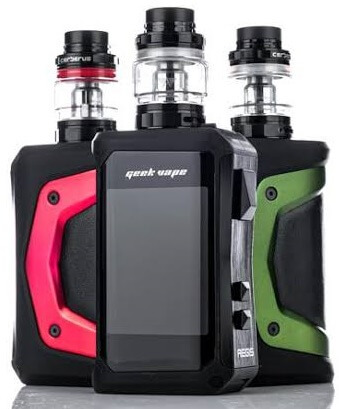 As you'd expect from a Geekvape device, the Aegis X is solid, well-designed and beautifully constructed.
Slightly lighter in weight that the earlier Aegis Legend model, it has a great hand-feel. 
Perhaps the best feature of this device is its huge 2.4" OLED colour screen which covers virtually the whole side of this mod.
Bright and easy to see, it's an attractive addition to the design and is also useful for seeing your settings at a glance.
Another excellent feature of this device is its thick rubberized coating which makes it easy to grip and to use without worrying about dropping it.
The colour option is an accent panel that extends around the mod's side, and there are several choices to pick from to suit your preferences.
The battery door has a sliding latch, which is a lot more convenient than having to unscrew the door.
This mod is IP67-rated, so it's well-protected from dust, shocks and water. This gives you complete peace of mind. 
Measuring 31.5" in thickness, this mod can be used with atomisers up to 26mm thanks to its centred 510 pin, and there'll be no unwanted overhang.
Although this mod can technically be charged internally, it's probably a better idea to use an external charger for the removable batteries. 
This Geekvape mod has an intuitive design and couldn't be easier to use.
You can switch between settings easily, and it's quick and simple to turn off and on.
The Aegis X has a 2.0 chipset – a newer version than that used on the Geekvape Nova and Legend mods, and the ability to control your vaping experience is outstanding.
You can adjust the temperature and wattage in small increments to get the perfect vape for you, and the vapour and flavour production are both excellent. 
Unlike many other devices, the Aegis X doesn't come with an internal battery.
Rather, it functions using dual 18650 batteries which don't come with the device.
You'll need to buy those separately before you can start vaping.
While this can be a bit of a pain, on the upside, there's no need to carry around a charging cable so you can charge your device on the go.
Simply take several replacement batteries out and about with you, and you're good to vape all day with no downtime.
Although you can charge the mod internally thanks to the USB connector at the base of the device, it's probably best to use an external charger for safety purposes.
However, at a push, if you have no spare batteries or an external charger with you, you need to simply remove the rubber plug and start charging.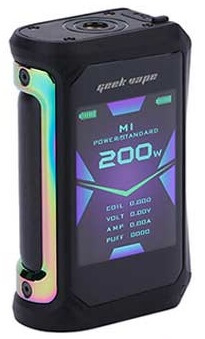 This device is capable of generating up to 200 watts of output thanks to its powerful dual 18650 batteries and its chipset ensures that this mod is capable of running to maximum efficiency.
Setting the temperature is easy and precise, with temperature ranges between 200 and 600 degrees Fahrenheit.
There are also several output modes to choose from – soft, standard and powerful modes.
You shouldn't forget about the safety features too.
You can enjoy excellent protection while you vape thanks to the ten-second cut off, short circuit, overheat, overcurrent, overcharge protection and IP67 rating which means that it can withstand submersion in water of up to a metre for half an hour.
Its dust proofing means you can use it anywhere, while its shock-resistance means you won't need to worry about dropping it.
All of this adds up to make this the perfect device for use while you're on the go.
As with any device, there are a number of advantages and disadvantages to its use.
Here, we look at the pros and cons of Aegis X:
Pros:
Fantastic build quality and design

A comfortable easy to grip rubber coating

IP67 rating for protection against dust, shocks and water

A choice of 8 attractive colours

Excellent power mode performance

Capable of handling atomisers of up to 26mm with no overhang

A high amp limit

Intuitive, easy to navigate menu

Wattage curve mode

Large 2.4" colour OLED screen
Cons:
The battery door can be tricky to operate

Unable to obtain full wattage when using TC mode

The device doesn't come with batteries, and these must be purchased separately
Geekvape has done a fantastic job in designing and building this box mod.
The other devices in the Aegis line are also excellent, but the Aegis X won't disappoint users thanks to its strong and durable build and its impressive flavour and vapour production.
This is a powerful device which is especially good for anyone who likes to vape on the go thanks to its IP67 protection and its sturdy construction.
It also comes with an affordable price tag, so there's everything to gain and nothing to lose by opting for this vape device.