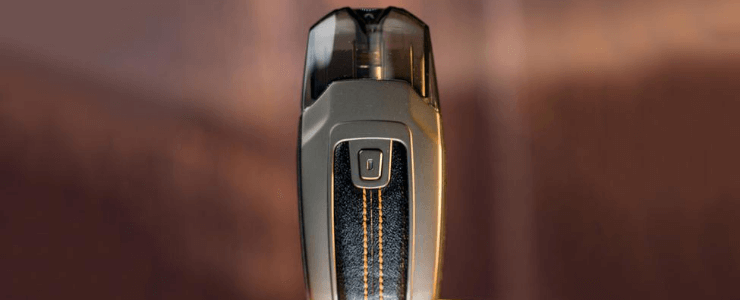 Geekvape's Aegis Pod is a cutting-edge pod-style vape from this well-known and popular vaping brand.
Part of the Aegis product line, this pod system boasts great performance and stylish good looks, just like the other devices in this range.
If you're looking for a convenient way to vape when out and about with no mess or fuss, this kit could be just what you're looking for.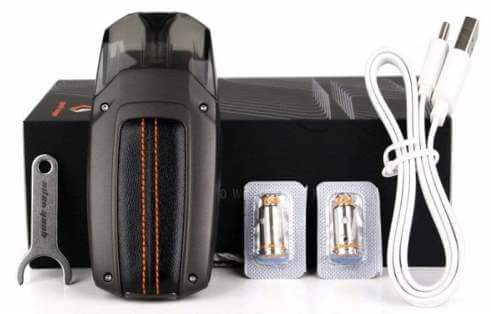 The most recent IP67 rated device from Geekvape is the Aegis Pod. Light, slim and small, it boasts shock, dust and water resistance and ensures surprisingly powerful performance.
Compact and simple, this pod-style vaping device is suitable for use with both nicotine salts and e-juices and is small enough to pop into a pocket on the way out of the door.
The kit comes complete with a 3.5ml pod already installed in the device and with two 0.6-ohm mesh G Coils as well as a type C charging cable.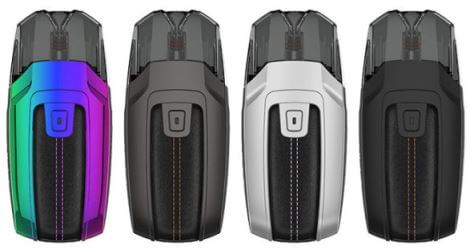 Right from the very first moment you set eyes on this device, you'll be left in no doubt that it's part of the Geekvape Aegis rage.
Its stitched leather patch is surrounded with metal bezels, and the sides have the signature rubberised finish that we associate with this brand.
While its shape isn't the same as the other devices in this manufacturer's collection, this pod-style vape holds true to the Aegis traditional design.
This device stands apart from the others in Geekvape's range because of its compact size. Measuring just 88mm in height, 40.3mm in width and just 18mm thick, it's the smallest and thinnest Aegis on the market.
Anyone with average-sized hands can palm this pod device without any difficulties, while its slim profile allows you to easily slip it into a pocket.
Available in a choice of four stylish colours – rainbow, gunmetal, silver and black, this device features just a single fire button for complete ease of use.
The clicky, firm button is pleasant to use and adds extra style to an already good-looking, well-built device.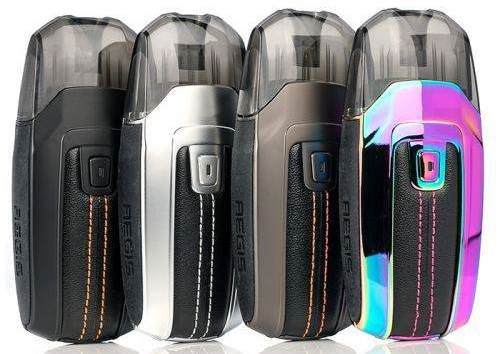 The coils supplied with this device are designed for use with both regular nicotine e-juices and nic salts in a host of flavours.
With a single fire button, there are no complex controls to get to grips with, and since there are no options for wattage adjustment or airflow control, this is a user-friendly device for complete vaping beginners.
Although experienced vapers may feel let down by the fact that there are no settings, beginners are sure to appreciate this simplicity, especially since it doesn't compromise on performance.
The flavour produced is deceptively good, and the performance is strong, whether you use salt nic or regular nicotine e-juice.
This pod device won't leak, but when wicking higher VG e-juices, there can be a few issues with dry hits.
This device doesn't have adjustable airflow, and its standard draw is a loose MTL draw with a somewhat restricted lung hit.
The Aegis Pod has very limited features as it is a simple device that is ideal for beginners.
You can activate and deactivate the device quickly and easily by pressing the fire button 5 times, and the device automatically times out after 10 seconds of ongoing vaping for your safety. 
There are also a number of safety features built into this pod device's battery.
There's a high temperature cut out which stops the device from functioning if the temperature goes above 80 degrees Celsius.
There is also a low battery alert if the voltage goes under 3.2 volts. Users also benefit from short circuiting protection.
This device comes with an inbuilt 800mAh battery, which is around the average for a pod-style vaping device like this one. Usage times also come in at around average.
From a full charge, you can vape around 1 ½ pods before you run out of battery, which equates to about a day of heavy usage.
You can also benefit from a swift recharge time – when you use the cable that comes supplied with the device, you'll go from empty to full in just 40 minutes.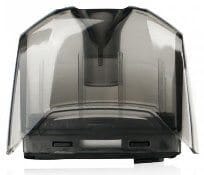 This device comes supplied with a single pod in the kit, but you are able to reuse it, so it represents good value for money.
Although the pod has a light tint, so it matches the device's colour, you can easily see the e-liquid inside it. The pod also utilises replaceable coils, so you can adjust your vaping experience.
The pod can hold up to 3.5mls of e-juice, and the pod also serves as the device's mouthpiece, being quite convex and wide in shape which can take some getting used to.
You fit the pod into the device using pressure, and clips hold it firmly in place. You won't need to worry about it coming loose or falling out.
You'll find the fill port on the base of the pod – just remove the plug and use any kind of nozzle or bottle to pour your favourite e-juice into the pod. 
The kit also comes with two matching 0.6-ohm mesh G coils. This pod device is compatible with other G coils from this manufacturer, so you'll have more versatility in your vape.
These coils are pressure-fitted into the pod's bottom, and they fire at an 18-watt constant output for use with either nicotine salts or standard nicotine e-liquid.
The coil life is relatively good, with the flavour only beginning to diminish after vaping around 25mls of e-liquid.
Pros:
Great flavour production

Waterproof design

A solid and sturdy build

The LED lights can be seen even in direct sunlight

You can see the level of e-juice easily through the pod's window

You can enjoy a satisfying MTL throat hit

The kit comes with a coil removal tool

This pod style vape won't leak
Cons:
It can be hard to take the pod out of the device

There is no adjustable airflow or wattage 
If you need an affordable and convenient pod-style vape for use on the go or as the first device for a complete vaping beginner, the Aegis Pod could fit the bill.
Although it doesn't feature wattage adjustment or airflow control, it's a user-friendly device that gives a satisfying vaping experience.
If you're an experienced vaper or if you prefer a very tight MTL draw, this device may not be for you, but with good flavour production and simple controls, it's ideal for novices.
Portability is the big selling point of this device, and although there are a few downsides, most vapers are sure to appreciate the advantages that this pod vape brings.