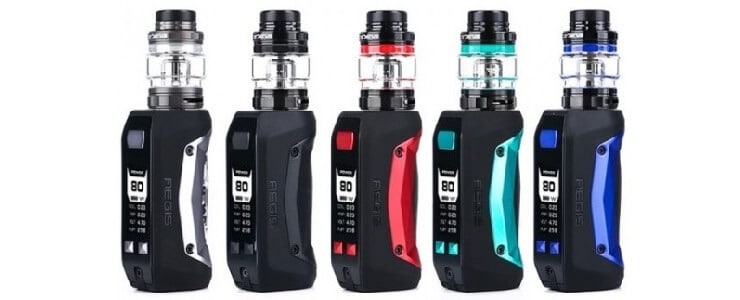 We've checked out the most recent kit from the popular GeekVape brand.
The Aegis Mini 80W is the third device to be added to this range's lineup, and it's got big shoes to fill.
Following up on the excellent Aegis Legend, this compact device won't disappoint.
So, without wasting any more time, let's take a closer look at the Geekvape Aegis Mini.
Geekvape Aegis Mini 80W Kit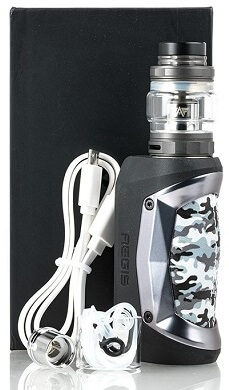 This stylish kit comes in an attractive cardboard box in Geekvape's regular orange and black brand colours that allow their packing to really stand out from the crowd.
Inside the box, you'll find not only the Aegis Mini itself but also a Cerberus Sub-Ohm tank, a micro USB charging cable, a spare super coil, a warranty card, a warning card, a user manual and a spare USB port seal.
This is a truly comprehensive kit that comes with everything you could possibly need to get vaping straight away.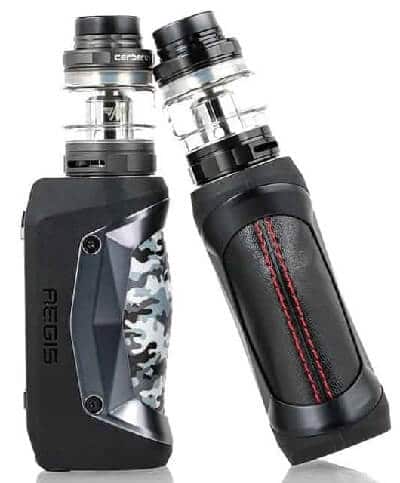 The Aegis Mini is mini by name, mini by nature.
This is a seriously small mod which is also very lightweight and easy to carry wherever you go.
Weighing in at just 122.4g, this device is also comfortable to hold and use thanks to its non-slip rubber coating. 
The mod's main part is made of metal, coating with a thick rubber that offers extra comfort and durability.
There is also a trim which complements the adjustment and fire buttons.
Finally, there is leather detailing with attractive stitching to match the trim colour, all of which adds up to one aesthetically pleasing device.
There's a range of different colours to pick from, so you're sure to find one that suits your sense of style.
You won't need to worry about any button rattle with this device and the screen is easy to see with its bright black and white 0.96" display.
A rubber plug covers the USB port so that you won't get any debris or grime in it, but this is quick and easy to remove.
As this device is also shock, dust and water-resistant, so you can enjoy its long lifespan. 
You certainly won't be disappointed by the performance you'll enjoy from the Aegis Mini.
It functions perfectly and is ideal for use with a single-coil RTA or for sub-ohm vaping.
The flavour and vapour production is very good and, depending on which tank you use, you can expect a couple of days of use from the battery before needing to recharge it.
The chipset also is excellent in both its power and TC modes, offering hard and fast hits.
The Aegis Mini comes with an internal non-removable battery, and this is often a cause for concern.
However, you won't have anything to worry about with this device since it offers a Fast Charge function that lets you charge from empty to full in no time.
In just 30 minutes you can go from a flat battery to 80% charge – pretty impressive!
The battery life is also exceptionally long – if you run it at around 60-70W you'll enjoy outstanding battery performance, and with a single-coil RTA, set at 45-50W, it can go for a full day or even longer.
You can even get it to run for two full days if you use it with an MTL tank.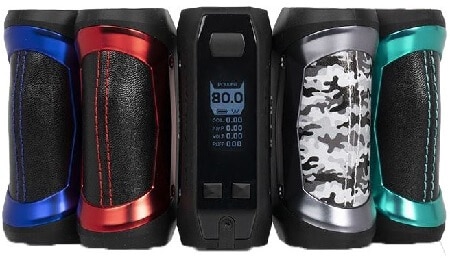 This compact mod is just 78mm in height and 40mm in width with a diameter of only 25mm.
This makes it an ideal choice for carrying with you while out and about.
It's also super-durable, so you won't need to worry about accidentally breaking it by dropping it or getting it wet. 
At the device's top, there's a wide plate made from stainless steel that has a 510 connection to attach the atomizer.
The threads are smooth for easy use, and this device is capable of supporting atomizer of up to 28mm with no overhang.
It comes with the Cerberus tank and this is the perfect fit with the Aegis Mini.
The device's black and white display screen sits flush in the device's surface and the finish is glossy.
Although this could end up attracting scratches, it's easy to read unless you're in direct sunlight and you can easily adjust the brightness to suit your needs. 
It couldn't be easier to use this device – just click the button five times to switch it on or off.
Three clicks will enter the selection mode and then you can simply press the + or – buttons to choose the one you want.
There are several supported modes including Power, TC-SS, TC-Ni, TC-Ti, VPC, TCR and Bypass.
Once you've chosen a mode, you can click the power button again to choose from a range of onscreen options like changing the TCR, temperature or watts, to reset the puff count, set up a power curve, reset the resistance, or lock and unlock the device. 
Pros:
Great build quality

A choice of 17 different colours

Attractive design

Light, compact design

No button rattle

Wattage curve mode

Excellent power mode performance

Great temperature control performance 

Easy to read screen

Intuitive menu system

Water, dust and shock resistant 

Attractive leather stitching 

Fast charging
Cons:
There aren't any pre-heating options in power mode

Some atomizers leave a slight gap

The battery isn't removable 
If you're looking for a compact, lightweight mod to take anywhere you're heading, the Aegis Mini isn't going to disappoint you as Geekvape has taken a rugged, durable design and made it smaller and more portable.
Whether you're looking for your first box mod or you're already an experienced vaper looking for a device that is great for travel, you'll appreciate the convenience and intuitive design of the Aegis Mini.
It's especially good for anyone who is an MTL vaper since you'll get an even longer battery life from this mod.
However, with such a speedy charging time, you won't have to wait for long even if you have a different preferred vaping style!