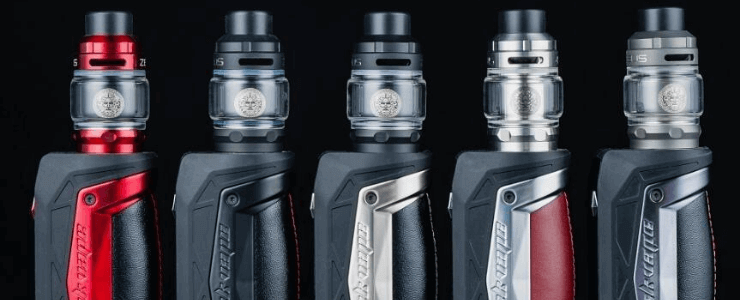 If you need a reliable and high-performance box mod from a well-known and trustworthy manufacturer, the Geekvape Aegis Max kit is sure to fit the bill.
Produced by a solid company with a strong reputation in the vaping industry, the Aegis Max is one of the most recent products from this brand, and it represents a good value option for anyone who wants a versatile vape.
Whether you're an experienced vaper looking for a portable option for use on the go or a complete beginner, you're sure to want to know more about this kit.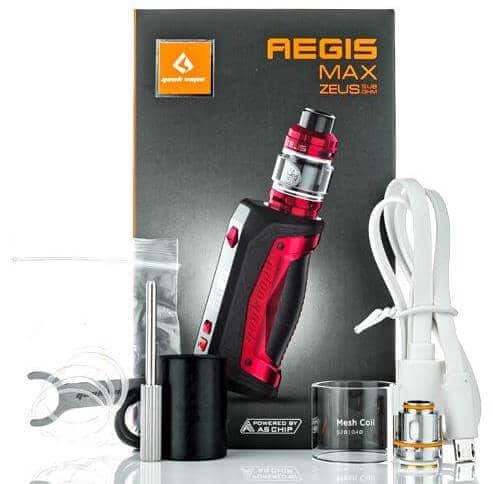 Manufactured by Geekvape, one of the biggest and best-known vaping brands in the marketplace today, the Aegis Max is the most recent single-battery box mod in its Aegis line.
The original Aegis device was a pioneer in water-resistant and shock-resistant vape mods, and the Max won't disappoint being very similar to its predecessor, with the main difference being its smaller size and single 21700 battery. 
When you invest in this kit, you'll get the Max mod and Zeus tank along with a user manual, and a number of handy accessories and extras including a battery door assist tool, a 18650 battery adapter and a spare parts pack for even better value for money.
You'll also receive an 0.2 ohm G Coil mesh coil and a 0.4 ohm G coil mesh coil as well as a spare glass and a coil tool.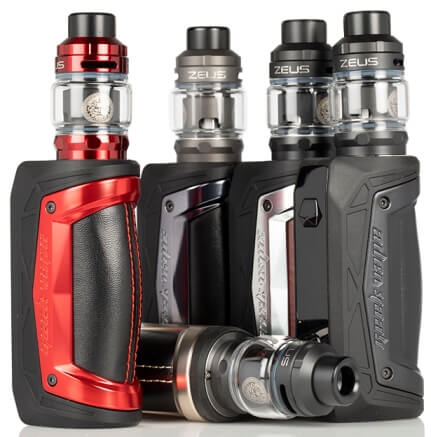 If you've ever used an Aegis device before, you'll already be familiar with this manufacturer's high-quality designs and cutting-edge build quality.
The Max is no disappointment with its great build that feels solid without any flimsiness or cheapness.
Its hexagonal fire button is well-located on the mod's front, and under the large, bright, black and white screen you'll find up and down buttons, with the USB port on the device's left side concealed by a rubber plug to prevent water and dust ingress.
This isn't the smallest mod out there, but it is smaller than the original Aegis and certainly much smaller than dual battery mods, although you can expect its size to be bigger than the majority of dual 700mAh battery mods.
This device uses a single 21700 battery which doesn't come with the kit. Alternatively, you can opt for a 18650 battery and use the adapter that comes in the kit. 
This device has a 510 pin which allows you to use any atomizer of your choice up to a maximum of 30mm with no overhang.
You can choose from five stylish colours, all of which are presented with brown leather stitching and a black frame coating.
The branding is simple and elegant while the battery door has a threaded latch system which functions perfectly.
Both of the coils supplied with this device provide impressive flavour and really thick clouds which are sure to satisfy all but the most demanding vapers.
With easily adjustable airflow, you can alter your draw between fairly loose to restrictive to satisfy your preferences without any difficulties.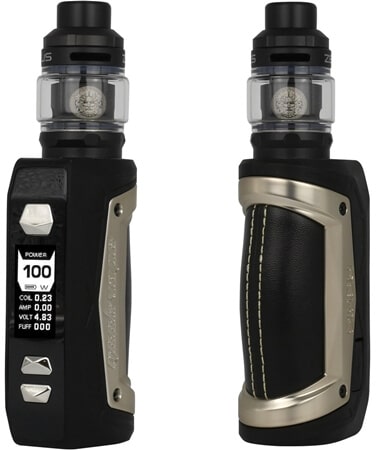 This mod boasts all of the features typically seen on the most recent Aegis mods.
You'll find power mode, temperature control mode, bypass mode and power curve mods – all the features you'd expect and desire in regulated mods.
This device offers you two options when it comes to batteries. You can either opt for a 21700 battery or, instead, go for a 28650 battery which can be utilised with the adapter that comes in the kit.
This gives you greater flexibility. The battery door is screwed shut which, although less convenient than a standard hinged door, does offer more security and safety for your battery.
The battery is quick and easy to remove and replace, and the recharge time is reasonable at around 2 hours from empty to full.
You can either remove the batteries for recharging or charge them inside the device for your convenience.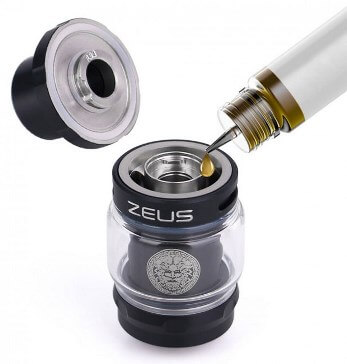 The Aegis Max features a regular 510 connection with smooth threads that make it easy to attach and detach the supplied Zeus tank that comes with this kit.
The tank is quick and easy to refill with no mess by just unscrewing the cap, and replacing the coils is also a breeze.
You won't need to worry about leaks either since this device has been designed to be leakproof, ensuring that you won't end up with a mess in your pocket when you're out and about.
The tank is supplied with two coils – a 0.2 ohm and a 0.4 ohm G coil mesh coil.
Both work extremely well to produce strong flavour and plenty of clouds, with the 0.4-ohm coil working best at around 50 watts and the 0.2-ohm coil working best between 60 and 70 watts.
As you might imagine, like any vaping device you'll find that the Geekvape Aegis Max kit has both advantages and disadvantages.
Read on to discover the pros and cons to purchasing this device.
Pros:
Excellent build quality and durable construction

Attractive design and colourful options

Good power mode performance

Capable of handling atomizers up to 30mm with no overhang

A clear and large screen

Integrated watt curve mode

Water-resistant mod 

Leak-free design with easy refilling 

Smooth 510 connection for easy attachment and detachment of atomizers
Cons:
Slower charging rate

No colour screen
If you've been searching for the convenience of a portable box mod that won't compromise on performance and that is made by one of the most reputable manufacturers in the vaping industry, the Geekvape Aegis Max kit is the ideal option.
Coming complete with the Geekvape Zeus tank that boasts impressive performance, this well-built device is stylish to look at and small enough to take and use anywhere.
With many impressive features including a range of modes to choose from, this is a good choice of affordable device for both experienced vapers and newcomers to the world of vaping alike.