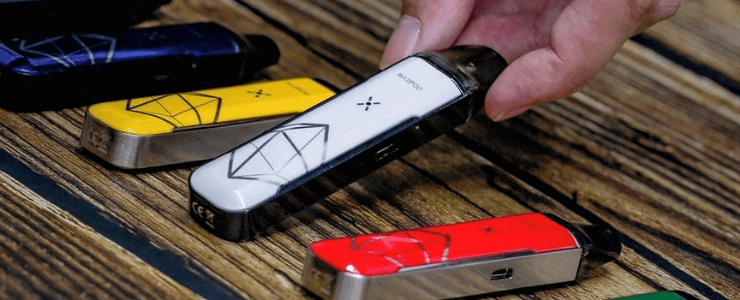 As the first compact pod system from Freemax, the Maxpod is a great choice for any MTL vaper who prefers to vape nic salts and who wants a handy vaping device for use on the go.
Whether you're an experienced vaper who values portability or a newcomer to the world of vaping who wants a user-friendly first device, the Maxpod could be just what you're looking for.

Best known for their original Fireluke Mesh sub-ohm tank, Freemax is a reliable vaping brand that has produced a number of popular and trustworthy devices and tanks including the Twister vape pen and the GEMM kit.
The Maxpod is the first true pod device from its line, and it has been designed to be compact and pocketable for use on the go.
Featuring an inbuilt 550mAh battery, this pod device has a capacity of 2mls of your favourite e-liquid and utilises replaceable coils.
It functions with a constant 3.3-volt output voltage and has simple draw activated firing for the ultimate inconvenience.
The kit comes with the Maxpod device itself and a matching pod along with two NS mesh coils, one of 1.0 ohm and one of 1.5 ohm.
You'll also receive a lanyard, warranty card, user manual and charging USB cable.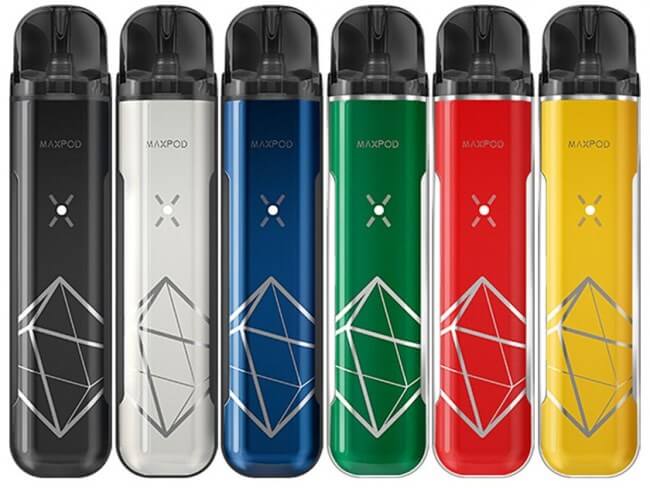 The first thing you'll notice about this style device is its cool design. With a zinc alloy and steel frame, this unit looks great and features grippy panels to help prevent accidental drops.
No buttons exist to spoil the appearance of this streamlined device – it's purely draw-activated, and this makes it an ideal choice for beginners and for those who value safety.
There's no possibility of the fire button being accidentally pressed while this device is in your pocket.
When it comes to your pockets, you'll be pleased to hear that this device is very portable and can be taken anywhere in a pocket or purse.
Measuring 101mm in height, 22mm in width and just 14mm in-depth, it only weighs 56.3g so it won't weigh you down.
That said, it isn't so light that it feels fragile or cheap. You can easily carry this device wherever you want to go with the lanyard included in the kit.
You can wear it around your neck whenever you like, and you'll barely notice it's there.
It's easy to fit the pod into the battery since it has a magnetic attachment to help it sit securely in position.
Overall, the build quality of this device is excellent, and with a choice of cool colours, this is an aesthetically pleasing choice.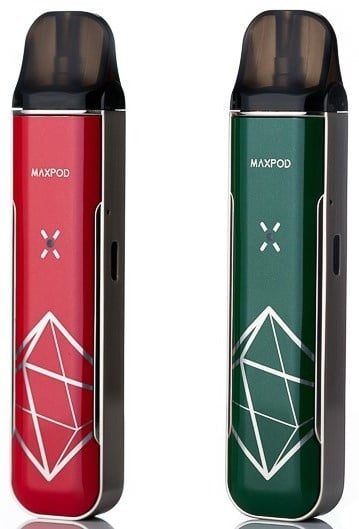 Even though the Maxpod is a simple device, it performs surprisingly well.
Actually, it's a top-performing pod vape in its category with perfectly functioning draw activation that flawlessly works with both of the supplied coils.
If you prefer a moderate MTL draw, the 1.0-ohm coil will tick your boxes. The vapour produced is warm and pleasant, while the flavour is pretty good too.
On the other hand, if you prefer a tight MTL draw, the 1.5-ohm coil is best for you. The vapour produced is similar in terms of warmth to that produced by a 1.0-ohm coil, but is slightly cooler.
It also produces more nuanced flavour when used with either a 50:50 juice blend or a 70:30 VG:PG mix. The coils also remain leak-free at all times.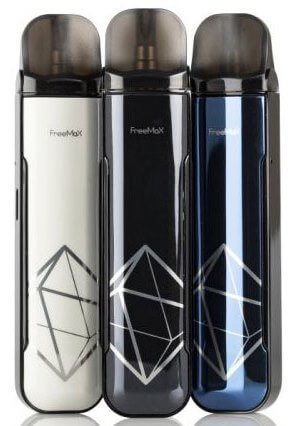 The Maxpod has little to offer in terms of features and functions thanks to its simple, user-friendly design.
While this may be a drawback for advanced vapers who want more customisability in their vape, for beginners, it's the ideal design with no complex learning curve involved in getting to grips with this device.
Since it is only draw-activated, there are no buttons to learn, and the only other feature is the LED indicator which lets you know when the battery is charging.
This device can be charged up using the mini USB port on its side. The LED light will shine red during charging and will switch off once the charge has been completed.
Charging from empty to full takes around 50 minutes, which is pretty speedy, although the battery isn't the most powerful at just 550mAh, which allows for vaping of around one full pod per charge.
The LED light not only tells you when the device is charging, but it also shows the level of battery remaining during vaping. A white light shows that the device's battery is between 65% and 100% full.
A blue light indicates the level has dropped to between 30% and 65% while a red light indicates that the battery is below 30% and therefore a recharge is required.
Of all pod devices, the Maxpod's pod has one of the best-designed mouthpieces thanks to its duck beak shape which curves in a gentle semicircle to sit comfortably on the lips.
Although the pod has quite a dark tint and it can be hard to see the level of e-juice inside, it is possible to check the levels if you hold the device up to the light.
There is a 3ml maximum capacity for e-juice in the pod, and you fill it via a port on its side.
While the rubber stopper isn't the thickest, it's quite durable, and it prevents any unwanted leaks.
The pods use replaceable coils which are pressure-fitted into the pod's base.
Two coils are supplied in the kit – a 1.0 ohm NS mesh coil with a wick made from 66.66% flax cotton and 33.34% organic cotton and a 1.5 ohm NS mesh coil which has a wick made from 44.44% flax cotton and 55.56% organic cotton.
The 1.0-ohm coil works best with 20-30mg nicotine salts and for 3-12mg nicotine e-juices.
The coil fires at 11 watts constantly. Meanwhile, the 1.5ohm coil is ideal for 30-50mg nicotine salts or nicotine e-liquids between 12-24mg, firing constantly at 8 watts.
Pros:
Excellent build quality

A choice of attractive colour options

Extremely user-friendly

Comfortable to hold

Compact design for excellent portability 

Constant output

A satisfying MTL draw

Flavourful and warm vape 

A relatively long coil life

Rapid charging
Cons:
The pods are darkly tinted which makes it hard to see the e-liquid levels inside 

Refilling the pods can be messy due to the side port 
This is an enjoyable and comfortable device to use with strong construction and attractive good looks.
Designed for portability and user-friendliness, this is an especially good choice of device for novice vapers thanks to its draw activated design, and it's also good for vapers on the move thanks to its compact dimensions and lightweight build.
Suitable for use with two different coil types and with a rapid charging battery, the Maxpod is a go-to device for anyone who wants ease of use paired with pocketability without compromising on flavour or performance.