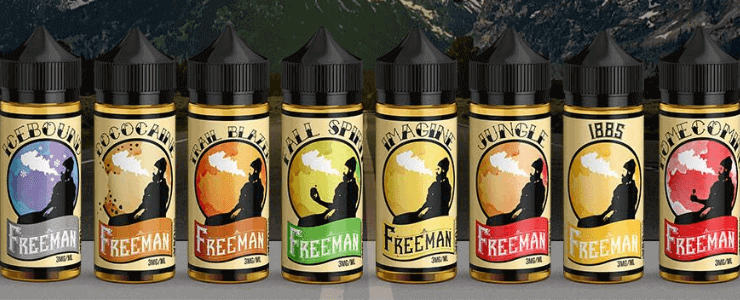 Looking to add just that little bit of extra class and sophistication to your vaping experience?
Look no further than Freeman's line of premier vape juices. Freeman offers an incredibly vast selection of top-tier e-liquids.
From the deceptively simple milkshake flavour to the tart yet sweet blue raspberry flavour, Freeman's vape juices are guaranteed to have something for every type of vape user.
If you need a little guidance in finding the right e-liquid for you, then you've come to the right place, this brief review of just a handful of Freeman's products should help guide you to your perfect vaping experience.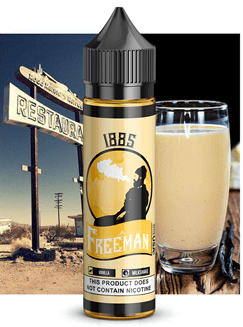 This e-liquid is named after the year in which its flavour, vanilla milkshake, was first created.
And as its namesake would suggest, this e-liquid has a certain reputation to uphold, an expectation that this flavour will provide a sharp yet sweet taste that is familiar to anyone who has had a classic vanilla milkshake.
A reputation which this particular e-liquid easily lives up to.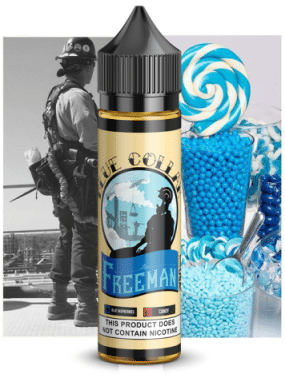 Featuring a bold blend of blue raspberries and sweet candy, the Blue Collar e-liquid should be the go-to choice for anyone who prefers a more sharp and tangy taste in their e-liquids.
The tart raspberries are complemented beautifully by the sweet candy within the liquid, creating a truly distinct flavour.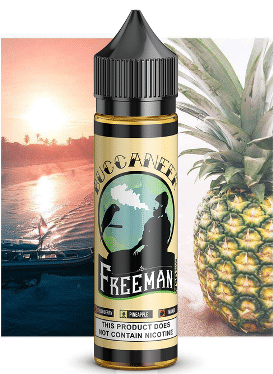 An e-liquid for all the tropical fruit lovers out there, Freeman's Buccaneer e-liquid brings together the fresh flavours of both pineapple and mango, a favourite combination for anyone who enjoys a tropical twist.
This tropical twist is further blended with strawberries in order to create a completely unique vaping experience.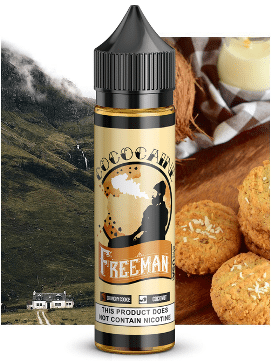 This e-liquid is as addictive as its name would suggest. This e-liquid perfectly captures the classic taste of a freshly baked cookie topped with toasted coconut shavings.
This flavour encapsulates the very taste of home baking and brings it to your vaping experience.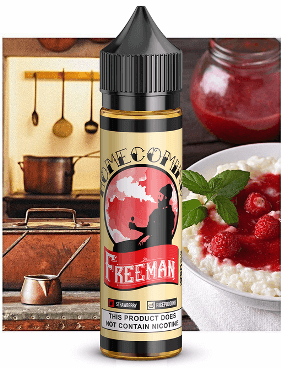 For those who want a true taste of nostalgic bliss, Freeman's Homecoming e-liquid offers the ultimate dessert e-liquid flavour.
By combining the always-sweet taste of strawberries with a rich and creamy rice pudding flavour, this e-liquid easily becomes one of Freeman's most homely recipes and can easily become one of your all-time favourites.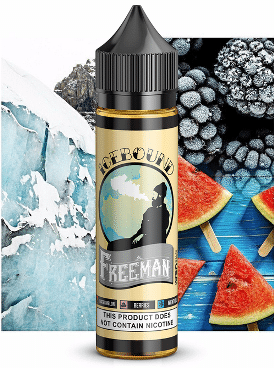 Named for its refreshing and sharp taste, Freeman's Icebound e-juice combines an interesting array of flavours that ultimately creates a very satisfying vaping experience.
Icebound uses menthol at its base, giving the e-liquid its refreshing overall taste.
Strawberries, raspberries and blueberries are then also mixed in along with a splash of watermelon to give the e-liquid that immensely refreshing taste.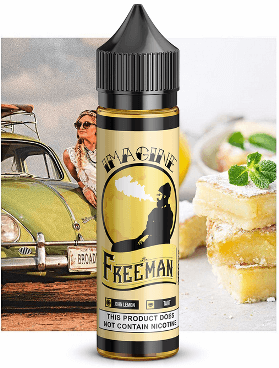 An e-juice flavour that practically melts in your mouth, Freeman's Imagine e-liquid takes that perfect lemon tart from your favourite bakery, condenses all of that sharp and vibrant flavour and packs it all into this tiny package.
This e-liquid also manages to somehow capture the taste of a pastry baked to absolute perfection, providing a crunchy and flaky layer to the lemon flavouring.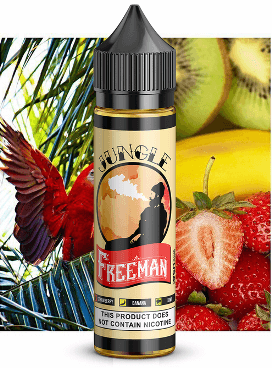 This e-liquid brings together three unique flavours that are not often combined together and in doing so, creates one excellent e-juice.
Jungle's unique flavour consists primarily of sweet strawberries, a classic e-juice flavour that never ceases to be delicious.
Along with these strawberries are flavourings of both banana and kiwi fruit.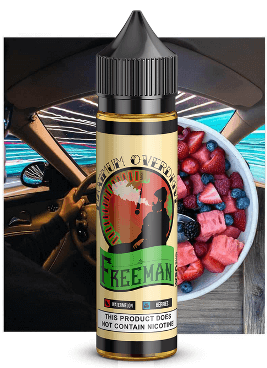 A name that evokes feelings of sheer unadulterated power, Freeman's Maximum Overdrive e-liquid flavour provides an intoxicatingly refreshing vaping experience.
Bringing together some absolute favourites from the usual e-liquid offerings, Maximum Overdrive has a unique blend of berries and and watermelon, providing both a refreshing and tart taste all at once.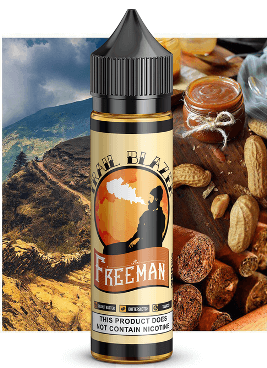 A flavour that practically transports the user to the Old West, Trail Blazer's tobacco-based flavour truly makes you feel as though you could be standing on the porch of your own ranch, staring at the fields and canyons in front of you.
Along with this intentionally earthy flavour comes with it a unique blend of butterscotch and peanut butter, giving the e-liquid a surprisingly sweet taste overall.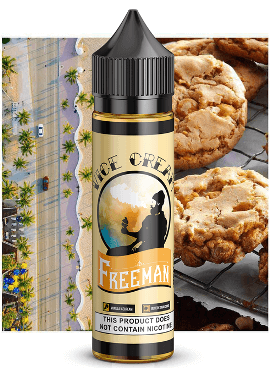 This e-liquid's superbly sweet flavour cannot be understated. By creating a flavour solely based in the world of perfect desserts, Freeman has created the ultimate e-juice for those with a sweet tooth.
This particularly tasty e-liquid contains both creamy vanilla ice cream and warm buttery sugar cookies.
As their namesake would suggest, Freeman is a company dedicated to giving you only the best and most authentic products available to the public.
As their branding suggests, they are "authentically American", meaning that all vape liquid ingredients are sourced from within the United States, ensuring that the quality of the products is not in question.
Freeman manages to keep their entire line of premium e-liquids so cheap as they manufacture very large quantities at a time, thus managing to pass the savings on to the customer.
Freeman has one clear goal in mind when selling their products; to provide an experience that is truly worthy of the phrase "made in the USA".
Freeman offers an extensive customer support scheme. Providing an exceptionally easy-to-use webpage that includes a streamlined search-bar function, links to more specialised support options and even including a direct link to the current CEO Paul Freeman, Freeman is a brand that does truly seem to care about their customer base.
The dedicated customer support webpage offers a substantial FAQ (frequently asked questions) section that will likely answer any query you could have with the products and their business methods such as questions surrounding shipping, order history and forgotten passwords.
Freeman offers several types of delivery to several varying regions. Within the UK, standard untracked, tracked, and special tracked delivery are all available.
All of these options are carried out via Royal Mail. Delivery to Ireland, Europe and the rest of the world is also available; however, these locations come with varying price tags.
If a damaged product is received by the customer, Freeman offers a complete return policy.
Simply report the damaged goods directly to Freeman immediately upon receiving them.
In order to expedite this process, Freeman may require you to take photographic evidence of the damage and send it via their online customer support page.