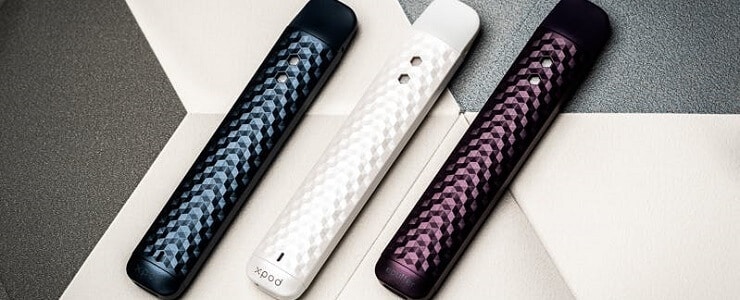 If you're looking for the convenience of a disposable pod vape, the ePuffer XPOD may have appeared on your radar.
Available with a choice of three flavour options, it appeals to ex-smokers and MTL vapers thanks to its natural-feeling function.
The device has a self-contained shell which holds both the battery and liquid pod, and with no buttons to worry about; it's a simple, user-friendly, air-activated device.
Should you buy the ePuffer XPOD or would a different pod device suit you better? Read on to learn everything you need to know.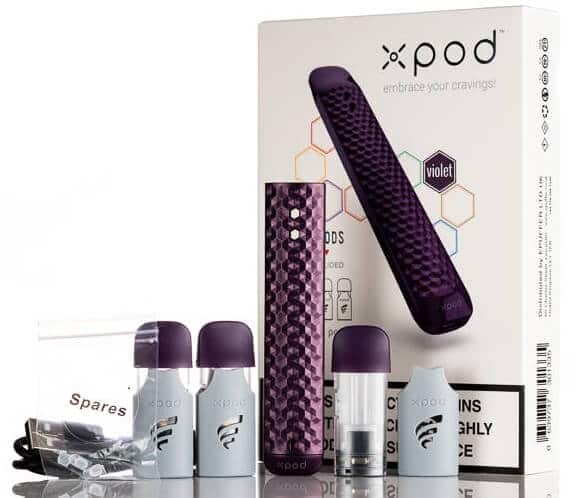 The ePuffer XPOD Mini kit comes with a disposable vape pen, and this means you won't get the fully-accessorized kit that you can expect if you invest in one of the refillable pod devices.
Nevertheless, this only adds to its convenience since the battery is supplied ready-charged and a pre-filled pod comes ready to start vaping straight away.
The kit comes complete with the device itself, with its all-in-one battery/mouthpiece as well as three disposable pods in three different flavours.
One is traditional tobacco, while one is menthol and the other is a mango flavoured e-juice.
This means that you have various options available to suit your preferences and allows you to try something a little different if you're an ex-smoker who has only ever smoked regular cigarettes before and who is keen to try out something a little more flavoursome than just standard tobacco tastes.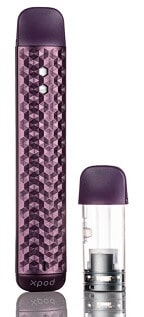 When compared to many of the other pod-style vaping devices on the market, the ePuffer XPOD's plastic shell isn't the most sturdy out there, but then again, since it's a disposable device, this isn't too much of a problem.
There are two holes in its side so you can control the airflow to suit your preferences, allowing both to remain open or covering one for a stronger resistance and a better MTL vaping experience.
If you're a DTL vaper, however, you might find that this device isn't ideal for you.
The above-ohm coil which comes pre-fitted in this device is incapable of producing that much vapour.
This isn't a device for anyone who prefers sub-ohm vaping.
However, if you're an ex-smoker or MTL vaper who likes the feel of traditional cigarette smoking, the XPOD will suit you perfectly.
If you're looking for a convenient device for use while travelling, the XPOD could be one of the best options on the market today.
The frame is small and portable, measuring just over 3 inches in height. This means you can carry it easily with you no matter where you need to go.
The mouthpiece is tapered, flat and comfortable to use, while there is an LED light at the other end which lights whenever you take a pull.
This is an incredibly lightweight device at just 15g, making it a pocket-friendly option for use on the move.
Since this is a self-contained pod vape, you can't recharge the battery or refill the pod.
The device is designed to be disposable and the liquid pod lasts for about 300 puffs.
While this means that you won't have to worry about the hassle of refilling the pods or recharging the battery between uses, it does mean that you'll eventually have to replace the device once the battery has depleted completely and this may not be a good value for money in the long run.
As this is a disposable pod vaping device, you might not expect too much from the flavour and vapour production.
However, when you use the pre-filled pods, you'll find that this device produces an easy and smooth MTL draw with a clean flavour and medium throat hit that will satisfy most vapers.
The draw is tight but simple to activate – with a light puff you'll get a virtually immediate hit, unlike with some other similar devices which require you to take a very strong puff in order to get a hit.
You can also take longer or shorter puffs as you prefer with no danger of dry hits or a burning flavour.
The only time this may be a problem is if you chain vape for an extended period of time when you may start to experience the odd dry hit.
Another benefit is that this is an exceptionally quiet vape with no snapping or crackling.
It also doesn't leak or spit juice during use for more comfortable vaping experience.
The ePuffer XPOD's battery capacity is 280 mAh, sufficient to power it for about 300 puffs.
The pods are disposable, so the question of if the battery will last longer than the e-juice or the e-juice will last longer than the battery is always something to bear in mind.
Luckily, the pods are long-lasting, and there is reasonable consistency between pod flavours.
There are several advantages to choosing the ePuffer XPOD:
It's a very easy-to-use device, ideal for beginner vapers

The vapour production is surprisingly good for this type of disposable device

The pods last for around 300 puffs

The flavour is excellent and consistent across different pods

There is a good medium throat hit
There are also a few downsides:
There are only a couple of nicotine and flavour options 

The battery cannot be recharged
On the whole, the ePuffer XPOD is a good-quality, user-friendly vaping device which is perfect for ex-smokers and MTL vapers.
The design is simple without any buttons for an easy beginner vaping experience, but the flavour is good quality and lasts throughout the lifespan of the battery.
With the three different flavour pods supplied with this device, you can choose the one that suits your preferences best, and as the battery comes ready charged, it's a great option if you need a vape on-the-go for instant satisfaction.
With its affordable price tag, this is a right choice of convenient on-the-spot vape for anyone who wants to try out vaping before investing in a refillable device of their own.