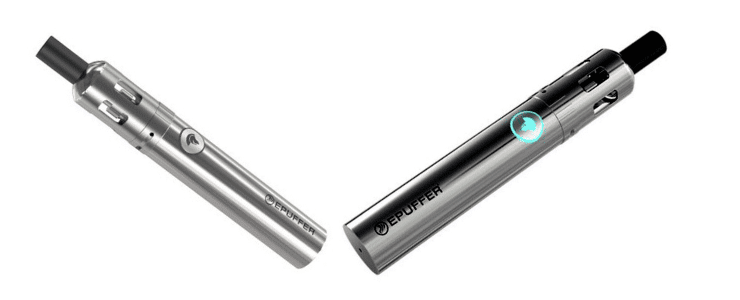 If you're a new vaper and are keen to quit smoking for good, you should definitely consider the ePuffer Titan X.
This kit comes complete with two different coils, one for each kind of vaping, so whether you prefer MTL vaping for a cigarette-like experience or the DTL vaping style that is favoured by more experienced vapers, you'll find the Titan a great choice for experimentation, cloud production and taste.
The ePuffer Titan X kit comes with virtually everything you need to start vaping (apart from the e-juice).
You'll get a rechargeable 1100mAh battery and a glass tank liquidiser as well as a micro USB cable for recharging the device.
You'll also receive two different atomiser coils, one at 1.0-ohm and one at 0.5-ohm to allow you to experiment with different vaping styles.
To facilitate this, you'll also receive two different mouthpieces – a narrow flow one suitable for mouth to lung vaping and a wide flow one suitable for direct to lung vaping.
You'll also receive a user manual so you can start vaping quickly, easily and safely.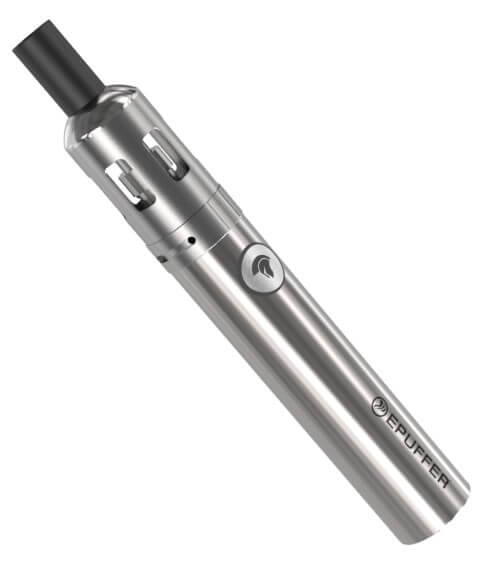 If you're looking for a well-made, attractive device, the ePuffer Titan X won't disappoint thanks to its stylish shiny stainless steel exterior.
It feels weighty without being cumbersome and with its large fire button, it's very easy to operate, even for a complete beginner. 
The tank section features an adjustment ring so you can choose the perfect airflow for you.
The drip tip is also fixed and is unscrewed to allow for quick, easy and convenient refilling.
There is a clear window too, so you'll always be able to see how much e-juice you have left at any given moment. 
This is a compact and portable device, but you needn't worry about the level of performance that you can expect once you start vaping.
With the 1.0-ohm coil, you'll enjoy a great flavour, and an excellent throat hit when you vape with a 50:50 VG:PG e-juice, and thanks to the adjustability of the airflow, you'll be able to achieve the restricted mouth to lung vape that most people prefer when quitting tobacco cigarettes for the first time.
The vapour production is also surprisingly good considering that most lower VG e-liquids and MTL coils produce minimal vapour.
With the 0.4-ohm coil head, you can also enjoy a great experience if you're a DTL vaper.
The DTL coil offers an extremely airy vaping experience, but be warned that if you shut down the airflow too much, your hits will be pretty dry.
You'll also need to use a thinner e-juice with this coil and a lower nicotine strength since a higher one will be harsh to vape with this coil.
You won't be able to produce enough vapour to satisfy a cloud chaser with this device since you can't use high VG e-liquids, but the taste is pretty good.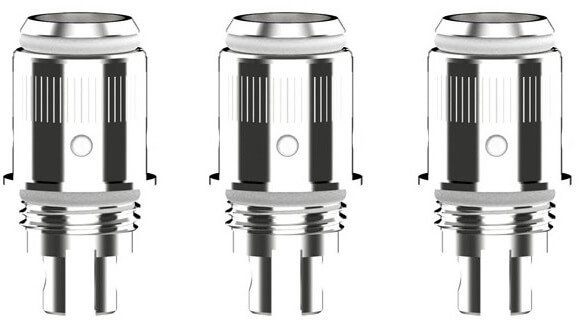 As we've already pointed out, the ePuffer Titan X comes with two coils ready for you to explore your preferred vaping style.
The 1.0-ohm coil is the best choice for anyone who is new to vaping and who is trying to quit smoking since it offers a tight and restrictive MTL experience that mimics that of smoking a cigarette.
You'll also find that the flavour from this coil is very good. While there is also a 0.4-ohm coil supplied with this kit, you won't enjoy the best vaping experience with this coil fitted.
It is, however, a good way to become acquainted with DTL vaping for the first time and to decide whether or not it's for you before investing in a more costly and advanced sub-ohm vaping device.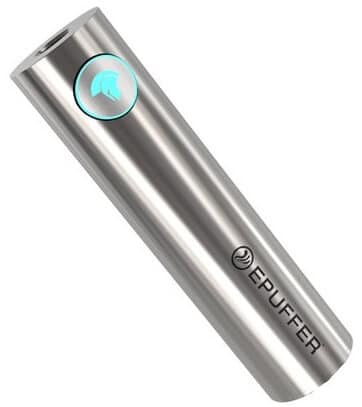 The ePuffer Titan X's battery has a capacity of 1500mAh, enough to ensure adequate power for all your newbie vaping experiences.
There is an LED light to indicate whether your battery requires a recharge or not, but rest assured that, even when the red light appears, you can still carry on vaping for quite a while, although be warned that the performance will begin to tail off.
Still, you can rest assured that you won't be left unexpectedly without any charge and no vape when you're in that crucial quitting period.
The lifespan of the battery will, of course, depend on the coil head that you've chosen to install.
If you opt for the MTL coil head, you'll use less power than if you opt for the DTL coil head.
When you use the 1-ohm MTL coil, you can enjoy between 6 and 7 hours of fairly heavy vaping – enough to satisfy most newcomers to the vaping world.
Pros:
The device is strong and well-constructed from quality materials

The Titan X has a stylish appearance

This device doesn't leak

Easy filling design

Excellent airflow controls

User-friendly design that is excellent for beginners

The battery life is long-lasting, especially for MTL vaping

The battery indicator lets you know when recharging is needed

Excellent MTL airflow for an impressive flavour and a strong throat hit 
Cons:
The device is only designed to be used with a maximum of 50% VG with the DTL coil

Not ideal for those who prefer direct to lung vaping styles
If you're looking for a compact and neat vape pen to help you quit smoking effectively, you should look no further than the ePuffer Titan X.
With its small size yet durable, high-quality design, it's a great choice for beginners who prefer an MTL vaping style.
Portable, effective and producing a good throat hit and flavour with the 1.0-ohm coil, you're sure to find that this is a great value option that will help you give up tobacco for good.
On the other hand, if you're an experienced vaper who prefers a direct to lung vaping style, you may prefer to choose a different device as the 0.4-ohm coil isn't the best choice for vapour or flavour production.