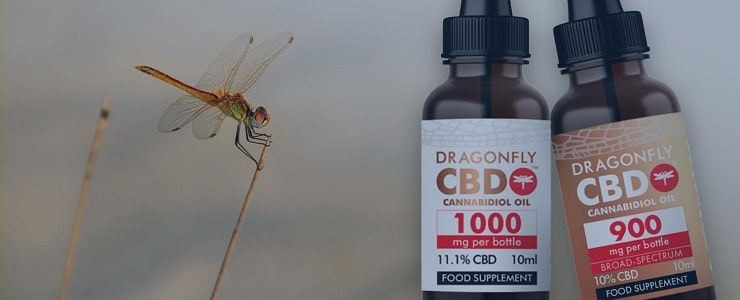 A brand that specialises in all things CBD, Dragonfly CBD offers a unique and vast range of products that are sure to please CBD aficionados.
Whether you're searching for CBD oils or CBD skincare products, Dragonfly is sure to have exactly what you are looking for, along with a whole host of products that you never knew you needed.
Dragonfly CBD has earned several awards over the years for their range of incredible high-quality CBD products, including the Boots 2020 Wellness Award and the Independent Pharmacist's Pharmacy Product of the Year Award.
Top Product – Narrow Spectrum Dragonfly CBD Oil

One of Dragonfly CBD's most popular products is the Narrow Spectrum Dragonfly CBD Oil. This best-selling product is manufactured using a super-distilled CBD formula.
This unique formula ensures that every drop of the oil tastes just as smooth as the last. Quality is absolutely assured with this CBD oil as Dragonfly CBD take every clinical measure possible to make sure that it naturally helps the body in a 100% safe and measured way.
The Narrow Spectrum oil is perfect for any CBD oil user, whether this is your first batch or your fiftieth. Those new to taking CBD will probably want to start with the 300mg lower strength bottle.
Experienced CBD users have the option to choose from a 500mg bottle or a 1000mg bottle. The oil works exactly how it's meant to and manages to avoid that odd taste that many CBD oils leave after in your mouth after use.
Dragonfly CBD is a company that prides itself on using only natural, organic CBD elements to create the finest CBD oils and skincare products on the current market.
They utilise a crack team of farmers and scientists that work together to produce organically grown Cannabis Sativa L.
Dragonfly CBD strongly believes in controlling their product every step of ensuring consistent quality across the board.
Dragonfly is also completely transparent, releasing batch-specific lab reports for every single product available to buy. Everything is above board with this company, which is fairly refreshing in this modern age.
It is exceptionally easy to contact the customer support team at Dragonfly CBD. Just head on over to their "Contact Us" page and choose your method of contact.
You can fill out an online form directly from this page to ask a query. You can email the support team using the email info@dragondlycbd.com. Or you can call them using the phone number on this page.
Dragonfly CBD even directs you to separate departments such as the Biosciences Press Office and the Wholesale team should you require their services specifically.
Dragonfly CBD offers free delivery on UK orders that are over £30. If your order comes under £30, then standard delivery is £2.95.
Next day delivery is £5, and delivery outside of the UK but still within the EU is just £10. Every order is sent via Royal Mail Recorded Delivery. It should be noted that orders will need to be signed for upon delivery.
If you receive a damaged product upon arrival, then you will need to contact the customer support team at Dragonfly CBD to explain your issue.
The process is quicker if you also attach any photos where possible and provide your order reference number. The reply email you receive will advise you on how to arrange your return and receive your refund or replacement product.