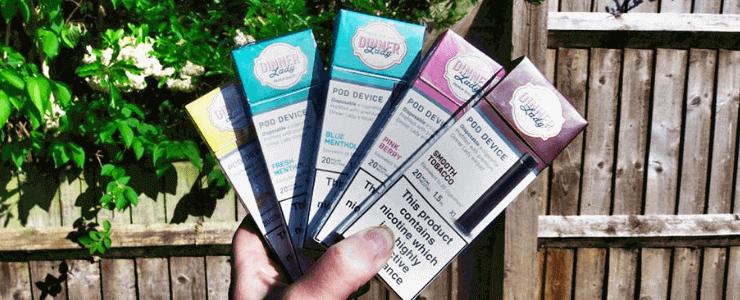 If you're looking for a convenient and easy way to get into vaping, disposable e-cigarettes could be just the solution you've been searching for.
An ideal choice for novices, disposable e-cigs are simple to use and offer an experience that is similar to that of smoking a regular cigarette.
These days, there are many different types of disposables to pick from, so whether you're keen to enjoy a traditional tobacco taste or something a little more unusual, you'll be spoiled for choice when you opt for the Dinner Lady range. 
Top Disposable E-Cigarettes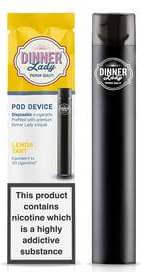 Voted as the top flavour in the UK for the past three years, this delicious and tangy e-juice has all of the tart sharpness of lemon curd all topped off with gooey, sweet meringue and wrapped in a buttery pastry crust.
This is the ultimate e-liquid for anyone who loves dessert flavours and who has a sweet tooth that needs to be satisfied.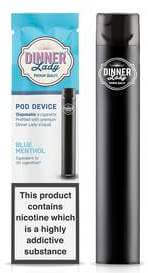 When you need a blast of refreshing ice to wake you up in the morning or to give you a revitalizing lift in the evening, Blue Menthol is the ideal e-juice for you.
Taking a slightly unusual twist on traditional menthol, this classic flavour comes with an extra hint of additional sweetness that tingles on the tongue.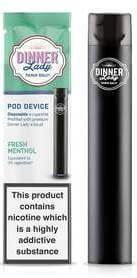 With all of the refreshing iciness of traditional menthol, this e-juice is the ideal wake up treat.
Designed to replicate the sensation of smoking a menthol cigarette, this tasty e-juice is a welcome change from classic tobacco for novice vapers. 

Who doesn't love fruity flavours? If you're a fan of sweet juicy e-juices, you're going to love this pink berry e-cig.
Refreshing and thirst-quenching, it will tantalise your tastebuds and leave you wanting more as you enjoy all of the pleasure of freshly-picked berries.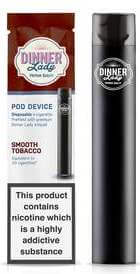 Many newcomers to vaping prefer to make the switch with a traditional tobacco flavoured e-liquid and where better to begin than with Dinner Lady's Smooth Tobacco pre-filled e-cigs?
Smooth, bold and sophisticated, this is the perfect choice for any beginner.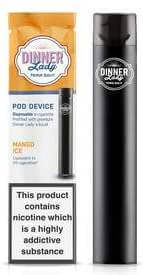 If you can't decide between the fruity goodness of mango or the icy blast of menthol when you're choosing the right disposable e-cig for you, Dinner Lady's Mango Ice is the ultimate solution!
Pairing the tropical taste of juicy mangos with the refreshing hit of classic menthol, this is a delicious choice for any time of the day.
Disposable E-Cigs & Vape Pens
The Dinner Lady brand has designed its disposable vape pens to be the very first in the United Kingdom to come pre-filled with the brand's own premium nicotine salts e-liquid for a high-quality vape. 
Each one holds 1.2 ml of e-juice and comes with an integrated 300mAh battery, all created to ensure that it's the simplest disposable vape to use if you're transitioning from using standard cigarettes.
Although small, this battery delivers more than enough power to deliver 300 puffs, and thanks to the organic premium cotton and high-quality coil, the taste you'll enjoy is second to none.
The Dinner Lady range of disposable e-cigs is designed to be lightweight for a feel that is very close to a traditional cigarette.
Since they are an instant vape there's no need for the hassle of refilling or recharging and each one is the equivalent of twenty cigarettes, so you can enjoy great value for money. 
Each e-cig has a clear window, so you can see at a glance how much e-juice remains, and the mouthpiece is ergonomically designed for maximum comfort when you're vaping.
All in all, these e-cigarettes offer a sophisticated and discreet experience that's perfect for beginner vapers who are ready to give up their smoking habit for good.
How to Use Disposable Vape
It couldn't be easier to use the Dinner Lady disposable vape. Just follow this user-friendly guide to help you get the most enjoyable experience every time.
First, open the disposable vape pen's outer cardboard packaging.

Take out the foil package containing the e-cig. This keeps the device sealed inside for maximum quality and freshness.

Tear open the packaging then take the black, slim disposable e-cigarette out.

You'll see a silicone plug at the top. This ensures the e-liquid inside the vape pen remains fresh. Take the plug out and then discard it.

At the bottom of the vape pen, you'll find a label to protect the air intake. You need to remove this then discard it.

The e-cigarette is already fully charged. It is also already filled with a nicotine salt e-juice pod in your chosen flavour.

Take a draw on the mouthpiece at the end of the pod. This will activate the vape. There are no buttons or other controls.

When the vape pen is activated, you'll see a blue LED light glowing at the bottom of the e-cig.

The device's battery will run out before the e-juice to ensure there are no dry hits.

You'll see the blue LED light flashing once the battery has run out. The pen can now be disposed of safely.