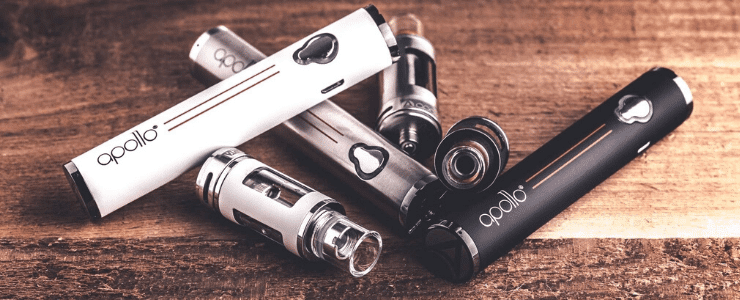 If you're a newcomer to vaping looking for a better way to transition from regular tobacco cigarettes, you may be considering buying the Apollo Ohm-Go kit.
Sleek, slim and user-friendly, this device is great for use anywhere thanks to its compact size.
This also makes it a good choice for anyone looking for a stealthy and handy vaporizer pen for use on the move.
Offering a great standard of performance in a conveniently small package, the Apollo Ohm-Go could be just what you've been looking for.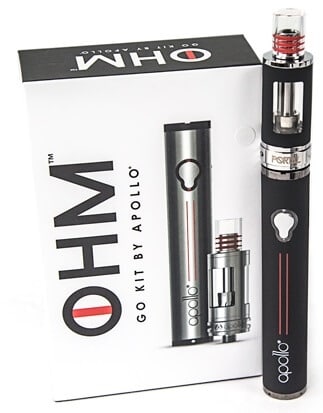 The kit comes complete with a 1900 mAh Ohm battery together with a 3ml Portal top filling sub-ohm tank.
There are two coils supplied with this kit – one is a 1.0-ohm coil while the other is a 0.5-ohm coil that comes pre-installed in the device.
You'll also find a user manual and a USB charging cable in the box. 
The Apollo Ohm-Go has an innovative battery that self-adjusts between 5W and 50W.
It also supports pass-through charging for zero downtime.
Users are also sure to appreciate the many inbuilt safety features such as the short-circuit, low voltage and overcharge protection as well as the bottom plate vents.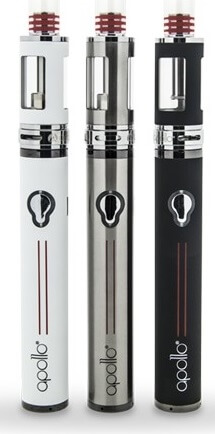 Perhaps the first thing you'll notice about the Ohm-Go is its slim and compact design.
Measuring just 19mm in diameter, this device is just 42mm in height even with the tank installed, and its total weight is just 1.48oz.
This makes it the perfect choice for vaping on the go.
Available in a choice of three colours – white, black and stainless steel, it's an appealing and portable option for anyone who wants a convenient and transportable vape.
The spring-loaded 510 pin offers a stainless-steel threaded connection and the Portal tank supplied in the kit fits flush with the battery for a streamlined and sleek look.
This is a stylish little device, with an attractive light bulb-shaped fire button and an LED-backlit display.
The LED colour indicates the level of charge remaining – if a red light flashes, it's time to get your charger out. 
If you're an MTL vaper (as most newbies are), you'll appreciate that this kit comes complete with a 1.0-ohm coil that's perfect for mouth to lung vaping.
However, what's even better is that a 0.5-ohm coil is also supplied, allowing you to upgrade your experience and adapt as you become more experienced.
This sub-ohm coil produces a very flavourful vape with relatively good clouds for such a small device.
This mod has been designed with ease of use in mind.
With its five click on/off systems, you'll have absolute no learning curve to get to grips with, and talking about getting to grips.
You won't need to worry about this device breaking if you accidentally drop it – it has a rubberized finish that allows for a more secure fit into your hand while repelling scratches and dirt.
Even new vapers will find this device simple to use.
The top-filling tank can easily be filled without any spills or leakage while the coils are simple to replace in seconds. 
One of the cleverest features of this device is its self-adjusting battery which automatically changes from 5W to 50W to suit the resistance of your chosen coil.
With its inbuilt LED screen, you'll instantly see when it's time to recharge the battery, but with its pass-through vaping functionality you won't have any downtime – again, perfect for those transitioning from smoking.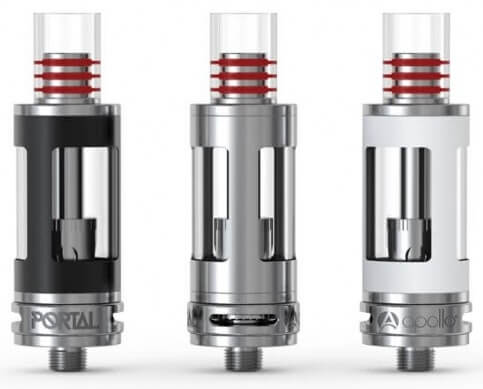 The Portal tank comes complete with this device.
As a top-filling tank, it has a standard 510 drip tip opening, and although the inclusive drip tip isn't the most attractive, it's still comfortable to use. 
You'll notice light knurling along the edge of the tank's top cap while the smooth threading allows for easy unscrewing.
There are three filling port slots that allow for most juice bottles to be used without having to find a needle-nose one.
One downside is that a metal covering fits around the tank's glass section.
This will not separate from the glass; therefore, you need to take care. If the glass gets broken, you'll need to buy a whole new tank.
This tank is capable of holding up to 3ml of e-juice which should be sufficient for virtually any vaper. 
Two coils also come with the tank. One is a 0.5-ohm coil that is pre-installed while the other is a 1-ohm coil.
This allows you to experience both MTL and sub-ohm vaping.
If you're a new vaper, you're sure to appreciate the fact that you can upgrade your experience when you're ready to adapt to a new style of vaping.
You can just switch the coils out, though, without needing to worry about adjusting any settings – the battery will automatically adapt for your convenience. 
Pros:
Flexible functionality

Sturdy yet elegant build

Two coils come supplied for both DTL and MTL vaping

A user-friendly design perfect for beginners

A non-slip rubberized grip to protect against drops and falls

Very portable device with a compact size and lightweight design

Fits easily into a pocket 

Its auto-adjusting feature makes it ideal for newcomers to vaping 

The scratch and dirt-resistant design means that it's easy to keep this vape clean
Cons:
More experienced vapers would probably prefer a device that allows them more control over their experience

The battery isn't as powerful as those in other devices
Whether you're brand-new to vaping and are searching for a user-friendly device that has no steep learning curve.
Or whether you're a more experienced vaper who wants to find a vape that's compact and lightweight enough to take anywhere and use on the go, the Apollo Ohm-Go kit could be perfect for you.
With its comfortable grip, simple controls and stylish good looks, it won't fail to impress.
At the same time, its two inclusive coils allow you to adjust your vaping experience from mouth to lung to direct to lung to suit your individual preferences.