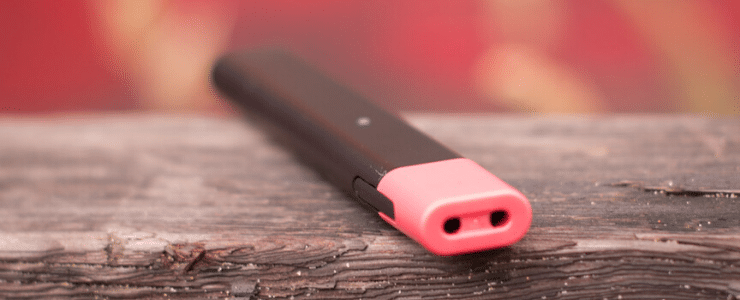 Have you been looking for a convenient and portable vape that you can take anywhere without any fuss?
The Apollo Brez could be the ideal choice.
This pre-filled nicotine salt vape has been designed to meet the needs of new vapers and those who are transitioning from smoking regular cigarettes.
With its slim and lightweight design, it's also pocketable and very stealthy – so much so, that you'll hardly notice you've got it in your pocket.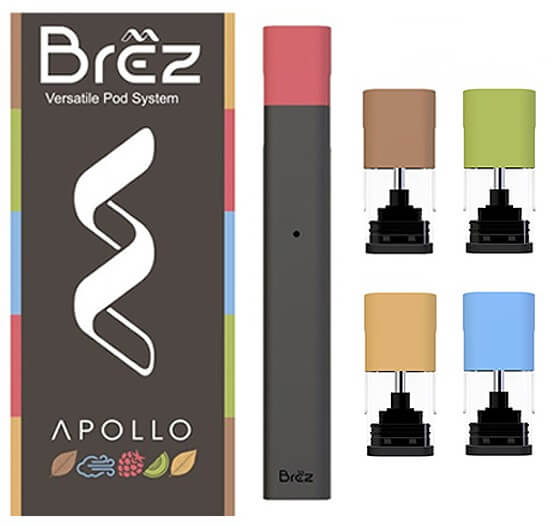 This kit comes complete with all you require to start vaping straight away pretty much as soon as you open the box.
You'll find a 320mAh battery together with a proprietary charging cord and a pack of five different flavoured pods, each one holding 1ml of e-juice.
You can even choose between 2.5% and 5% nic salt options to suit your preferences.

If you've ever seen the Juul vaping device, you'll certainly recognize familiar touches in the Brez.
Both devices have a number of similarities except the Brez features corners that are rounded rather than sharply rectangular.
The design is thin and long with an LED white light on its front.
The pods slide easily into place thanks to the two U-shaped sections that have been cut out to allow the pods to easily slide in place.
When they are fitted to the device, the coloured area of the pod sticks out for more visual appeal.
Thanks to their magnetic connections, it's also super-simple to drop a new pod into the place where it'll connect automatically. 
The Apollo Brez produces an impressive amount of vapour for such a small device.
While it won't produce anything like the amount of clouds you'd expect from a mod, this vape produces clouds similar to those produced by a vape pen.
Most importantly, the Brez is a perfect device to replicate smoking, so if you're transitioning from regular tobacco cigarettes, you'll love this device.
You can expect a pretty good throat hit from the Brez, especially if you choose the higher nicotine salt pods.
This, again, makes it a good choice for newcomers to vaping who still appreciate a cigarette-like throat hit.

A top feature of this device is how easy it is to use.
It's been designed to suit the needs of newbie vapers, and even a complete novice won't have any difficulties learning how to get to grips with the functionality of this vape.
Just drop a pod into the device's top slot, take a puff, and you're up and running.
The Apollo Brez features a 320mAh battery.
This is a pretty small battery, but for a pod-style vape like this one, it's perfectly adequate.
While the Brez has a lower power output compared to most other devices, it's sufficient to last for the best part of a day of fairly intense vaping.
The charging process is also impressively speedy.
You can get from flat to full in only 45 minutes, and since there's pass-through vaping functionality, there's no need for any downtime at all.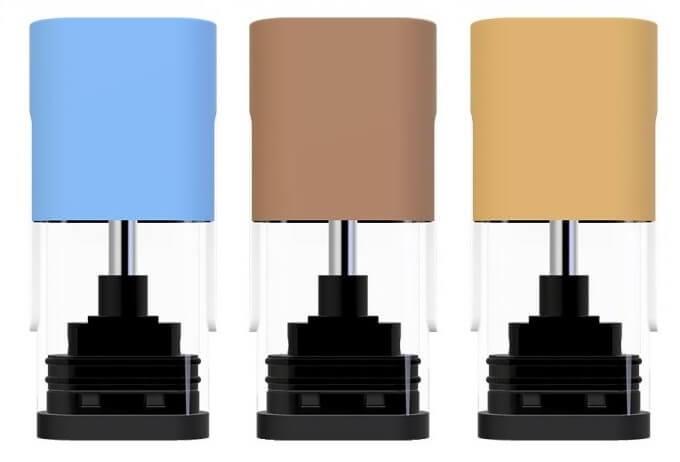 The pods supplied with this device have a simple design with three components – the pod section to hold the e-liquid, the coloured mouthpiece and the chimney section that runs up the pod's centre.
Each pod holds 1ml of e-juice, and each one comes ready filled with a nic salt e-liquid in a different flavour. 
The mouthpiece features two holes at the top that you inhale through.
Inside, they have cotton to prevent spit-back and ensure the smoothest draw.
The chimney connects the coil section with the mouthpiece and attaches direct to the pod's base where magnets and contact points match the inner part of the battery.
All the pods are well-sealed, so there are no worries about leakage. They come packed in foil and feature caps over each end.
The top has a plug covering that can easily be pulled out of the mouthpiece holes.
At the base, a larger rubber cap can be found, and a plastic tab covers the connection point, so the contacts are protected.
There are five different flavours of the pod in each pack:
Berry Blend – this e-juice has a fruity, juicy flavour with a touch of tartness and sweetness.
Tobacco – as you might expect, this is a perfect choice for new vapers, with an earthy and smooth authentic taste.
Melon – pairing honeydew melons with cucumber and mint, this mouthwatering e-juice is fruity and sweet.
RY4 – this e-juice tastes of tobacco that is enhanced with sweet caramel for an extra-rich and smooth taste.
Breeze – if you like the icy punch of a menthol cigarette, you'll love this e-juice.
Pros:
This is a very user-friendly pod-style device that's perfect for beginners

There are five different e-juice flavours to pick from

There are two different strengths of nicotine to choose from

The vapour production is surprisingly good for such a small vape

It has a portable and convenient design for use on the move

Thanks to the pass-through functionality you can vape while you're charging for no downtime

With its puff-to-vape design, it's ideal for smokers transitioning to vaping for the first time
Cons:
The battery life may be too limited for heavy vapers

The pods only hold 1ml of e-juice so need to be changed quite regularly

The hit could be too light for heavy smokers
If you need an easy to use and reliable vaping device, the Apollo Brez might tick all your boxes.
Perfect for use on the move thanks to its lightweight and compact structure, it couldn't be simpler for beginners to use as its pods simple drop into place.
There are no complex controls or adjustments of settings either – simply puff to vape!
This device also comes with five different pre-filled pods, so there's no fuss and no mess while you experiment with different flavours to find out which ones you like best.
Offering enough clouds to satisfy a new vaper, the Brez is a great transition device.