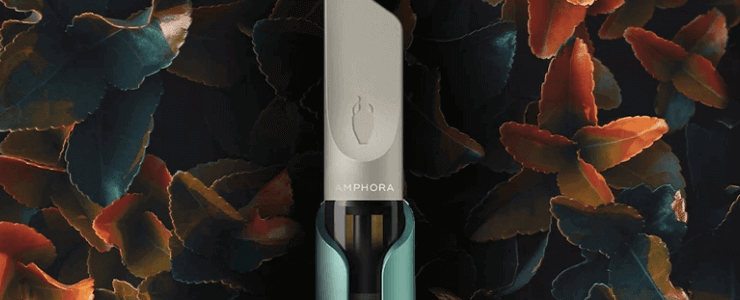 Add a lot of class to your everyday vaping experience with the prestigious CBD vape pen lines from Amphora.
Whether you're looking for stylish and sleek CBD vape starter kits or the finest CBD vape oils around, Amphora is sure to have whatever you are searching for.
It's easy to get lost in Amphora's online store, not because of a bad User Interface or anything like that but because there are so many premium products on offer.
Every time you think you've seen all that's on offer, a new and intriguing vape accessory appears in front of you. No matter what you end up buying, all of Amphora's products are sure to impress.
Best Vape Pen-Compass Gunmetal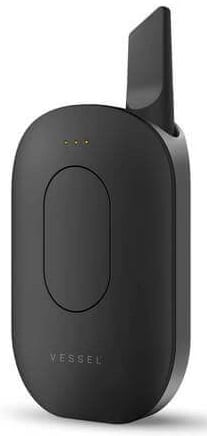 Amphora's Compass Vape series is not only one of the best vaping products available on their store but also one of the best vaping products available altogether.
The sleek design of the pen is what will immediately catch your eye. The all-black colouring with a subtle hint of gunmetal grey makes this device the perfect vape for those who prefer a concealable kit.
The rechargeable battery housed internally within the Compass does its job very well, requiring charging only around once a week if you're a casual vaper.
Amphora's range of premium CBD vape oils can easily be pushed in through the top of the pen, letting you start vaping within seconds.
Best Vape Kit – Chrome Vista Pen And Peace Cartridge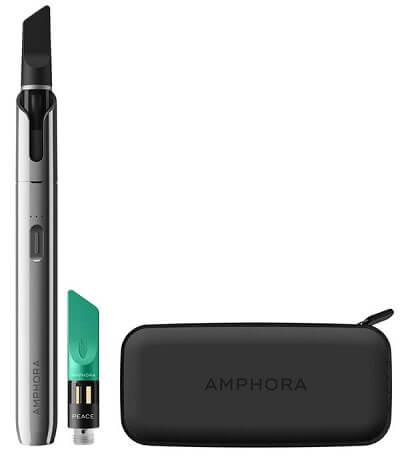 Perfect for both vape veterans and newcomers alike, the Chrome Vista Pen starter kit from Amphora is guaranteed to please.
Included in the kit is the titular Chrome Vista vape pen that has a built-in lithium-ion rechargeable battery, has three temperature control settings, and is compatible with the majority of 510 thread vape cartridges on the current market.
The kit also includes a USB magnetic charging cable and one 0.3ml CBD vape pen cartridge. The cartridge is filled with Amphora's premium Peace CBD oil that calms the user effectively.
Best Vape Juice – Peace Cartridge

The best CBD vape oil available from Amphora is their Peace cartridge, designed to be used with a 510-compatible vape pen.
Vaping this oil is one of the easiest, most pleasant ways to take your daily CBD. As the warm vape gently breezes past your throat, you'll be able to taste a deliciously sweet flavour of grapefruit, contrasted perfectly with a hint of peppercorn.
This particular oil is intended to produce calming effects, making it the perfect choice for anyone with anxiety or general stress.
All Peace cartridges are THC free, with all of the ingredients coming from 100% organically grown hemp.
Amphora is a UK-based company that strongly believes in ethical and effective worldwide trading of products that are designed to better oneself.
This core belief derives from their name. During the times of ancient civilisations, an Amphora was a container that transported precious goods across the world, connecting countless cultures.
Amphora is dedicated to bringing customers worldwide, high-quality CBD products that truly help. They pride themselves in maintaining a high standard of quality, regardless of the product.
Put simply, nothing goes onto the Amphora store if it hasn't been thoroughly tested and tested again.
Amphora's contact page will let you send a message directly to a member of the customer support team.
Simply fill out the form on the page, carefully detailing your enquiry or issue and press the "Send Message" button. A member of the customer support team should get back to you within one working day.
Before you contact a member of the customer support team, you may want to check out the customer support FAQ page on Amphora's website.
This page details quite a few of the most commonly asked questions about orders and enquiries, including refund details and warranty questions.
Amphora aims to ship all orders as soon as possible. All orders made before 2 PM (GMT) on weekdays are guaranteed to be shipped the same day.
Royal Mail handles all of Amphora's delivery orders and provides shipping information and tracking details when they become available. For orders that total £100, delivery is free. All orders are shipped in discrete packaging, keeping your privacy intact.
If your order arrives damaged or you have any issues with it upon arrival, then you can contact a member of the support team to organise a refund or replacement. Items must be unused and unopened to be eligible for a full refund.