Totally Wicked is a UK-based vaping products retailer which has been in the industry for more than a decade and which is known for its reliable, high-quality products.
With both an online presence and bricks-and-mortar stores the length and breadth of the UK, this company offers only rigorously tested e-liquids and e-cigs to suit both new and experienced vapers.
Recommended starter kits:
JAC SERIES-S22
Designed in the UK using high-quality materials

No risk 14-day money-back guarantee and industry leading six month warranty

Perfect for beginners and new vapers
XEO VOID Vaporizer
An all-in-one vaping device that combines the latest technology with high-quality German design

Great choice for beginners and experienced vapers
JAC SERIES-S17
Simply screw in the coil, fill with e-liquid in less than 10 seconds, attach to battery and vape. It doesn't get easier than this

Perfect for beginners and new vapers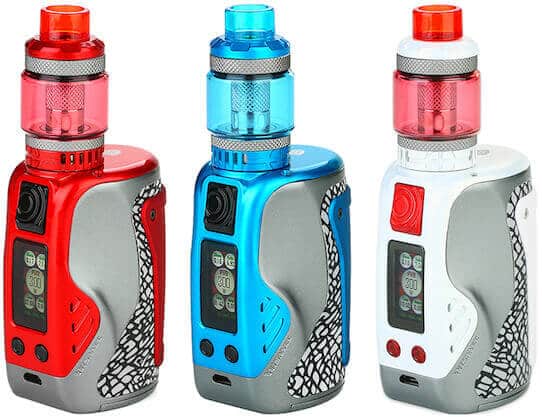 When you need a starter kit that's easy to use but which won't compromise on quality, the Wismec Reuleaux Tinker could be perfect for you.
This trend-setting device is inspired by the latest fashions, featuring an impressive build quality paired with excellent vaping features.
Its full-colour screen and intuitive menu system make this device a breeze to use, even if you're brand new to vaping, while its three 18650 Mah batteries can be removed and replaced for convenient charging and minimal downtime.
Perhaps the top feature of this Wismec device is its compact size.
Despite the fact that it's capable of outputting as much as 300 watts of power, it's still small enough to take anywhere for vaping on the move.
It's also packed with safety features for your peace of mind, protecting you from over-discharging and over-charging.
If you're a DTL vaper, you'll particularly appreciate the Wismec Column tank which comes with this starter kit.
You're also sure to be impressed by the huge vapour clouds this device can produce and thanks to its bottom adjustable airflow and sliding top-filling system, you'll be able to enjoy a truly outstanding vape every time.
Eleaf iJust ECM E-cig Kit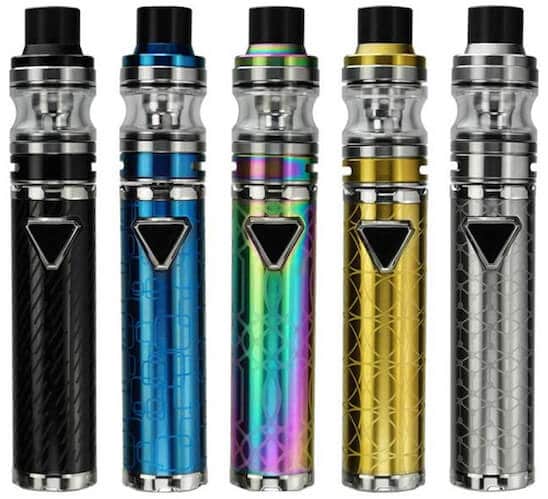 The Eleaf brand is well known for its excellent quality vaping products, and their iJust range is incredibly intuitive and user-friendly yet still pack a pretty impressive punch.
The iJust ECM won't disappoint. It uses the most up-to-date EC mesh coils which have a bigger surface area for better flavour and even more vapour.
It also features a powerful 3000mAh in-built battery for total convenience and great performance.
You'll be well-protected when you are using this vaping device – there are several protection systems to keep you safe.
You won't be waiting around for your vape – the fast firing speed allows you to get started almost instantly.
If you're a fan of direct inhaling, the ECM is the ideal cloud machine for you.
With its maximum output of 40 watts and a width of 25mm, you'll be able to choose from all of the most popular tanks for the perfect vape for you. 
Wismec Sinuous Solo E-cig Kit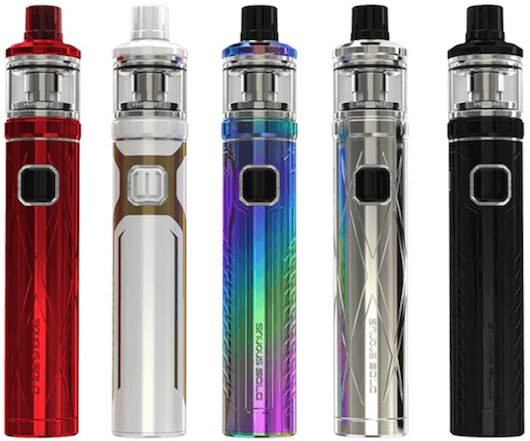 If you're looking for a pen style e-cigarette which can offer you some seriously high performance, you'll find that the Wismec Sinuous Solo stands out from the crowd.
It offers you the impressive feature of automatic changing output modes to suit the atomizer which has been fitted, and when you pair this with its 40 watts of output power, its 2300 mAh battery and the WS-M mesh coils, you'll have an e-cig which perfectly meets the needs of all kinds of vapers.
If you like to have the option to vape normally or at sub-ohm, the Solo can meet your requirements admirably.
Even better, you won't need to mess around with settings – whenever you use an atomizer with a resistance of under 0.75 Ohms, it'll operate in its bypass mode for sub-ohm vaping, but when you fit an atomizer which has a resistance of over 0.8 Ohms, you'll find it can perform with constant power outputs of 14 watts.
This starter kit comes complete with an Armor NS 2 Pro Tank. This is an excellent choice thanks to its adjustable bottom air flow and convenient sliding top-filling system.
It also comes complete with the WS-M 0.27 Ohm coil already fitted. The WS-M coils feature mesh technology for a larger surface area to produce even more vapour and even better flavour.
Since the WS04 1.3 Ohm coil is also supplied with this device, you can switch out the atomizers to experience both output modes to their best advantage.
If you are looking for more advanced vaping devices, we suggest you to check out following article:
List of UK's best e-cigarettes.

The Diavlo Heavy e-liquid has been influenced by the Godfather, however with its own London Twist.
Having been created and sourced in the United Kingdom with only top grade components, this premium e-juice range offers outstanding quality at an affordable price. With its PG:VG ratio standing at 40:60, it's ideal for sub-ohm vaping.
There are some fantastic sweet flavours in this impressive range to suit anyone with a sweet tooth.
Whether fruit or desserts are your preference, there's sure to be one for you. They include the following:
Chief Angel – blueberry muffin flavour

Billy The Mole – blue raspberry slush flavour

The Judge – custard flavour

Miss Hayworth – orange candy flavour

Sly George – berry lemonade flavour

PC Brown – fruit fizz flavour
Mr Wicked's Premier E-liquid

The Mr Wicked brand has been developed over ten years, and the result is an impressive, premium-quality e-juice which won't fail to hit the spot.
Their Premier E-liquid line comprises no less than eight delicious and well-blended flavours which capture all that you love about vaping.
There are also four strengths of nicotine to pick from – 0.3%, 1.0%, 1.0% and 1.6%. Each e-liquid has a PG:VG ratio which has been perfectly tailored to ensure the ideal flavour.
This range comprises a variety of both traditional and unusual flavours including:
Apple and Blackcurrant – blackcurrant, green apple and candyfloss (PG:VG – 25:75)

Blueberry Crepe – crepes with cream and blueberries (PG:VG – 25:75)

Cool Cola – sweet cola soda with just a touch of fizz and ice (PG:VG – 50:50)

Orange and Mango – exotic mango and sweet orange (PG:VG – 50:50)

Twisted Ice Cream – lemon, lime, pineapple and strawberry with vanilla ice cream (PG:VG – 25:75)

Wicked Fruits – fruits of the forest (PG:VG – 50:50)

Wicked Menthol – cooling menthol (PG:VG – 50:50)

Wicked Tobacco – traditional tobacco and roast nuts (PG:VG – 50:50)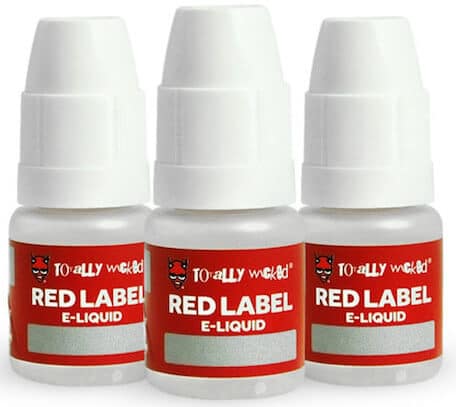 A favourite thing of many vapers is the ability to try a wide choice of flavours at their leisure.
The Red Label range delivers realistic flavours without any chemical aftertaste for an even better and more enjoyable vape.
Produced and designed in the United Kingdom, these thoroughly tested e-juices are made from only the very high-quality materials for your peace of mind.
There are 6 strengths of nicotine to choose from between 0.0% and 1.8% and 45 different flavours. The PG:VG ratio of this range is 50:50.
The flavours include everything from traditional tobacco and menthol to fruity, dessert, candy and cocktail tastes.
If you are looking for more flavours and options, we suggest you to check out this article: 
List of UK's best e-liquids.

If you're looking for a serious beast of a tank, the GNOME King won't disappoint.
It comes in a choice of stylish and appealing colours and produces huge clouds which are ideal for cloud chasers.
Its bottom air flow controls and sliding top-filling system make this a super-simple tank even for beginners while the sub-ohm WM atomizer heads ensure outstanding performance.
Easy to clean and maintain, this tank is an excellent choice for vapers who prefer sub-ohm vaping.
Joyetech ProCore Air Tank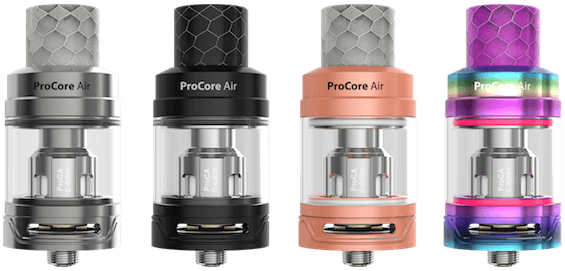 Compatible with a wide range of ProC atomizer heads, this high-performance Joyetech tank can accommodate the preferences of all kinds of vapers depending on which atomizer head you choose.
Whether you prefer huge clouds, amazing flavour, a tight or open draw, this tank can meet your requirements. Cloud chasers and flavour connoisseurs alike won't be disappointed.

If you prefer the restricted draw that you remember fondly from your cigarette smoking days, the Wismec Amor NS Pro Tank is the one for you.
Users can choose from the high resistance WS atomizer heads which are perfect for use with high nicotine strength e-juices, or the sub-ohm atomizer heads for bigger clouds.
This tank has a 2 ml e-juice capacity paired with outstanding style and a refined air flow control.
You can use this tank with a great selection of battery mods to customise your vape to your own preferences.
It's also very easy to maintain and use thanks to its top-fill system and bottom air flow control.
If you are looking for more advanced vape tanks, we suggest you to check out following article:
List of UK's top-rated sub ohm tanks.
Totally Wicked is a well-known and reliable UK-based vaping retailer with both a strong online and high street presence.
Having been in the industry for over a decade, this is a trustworthy organisation which puts its customers at the heart of all it does.
As a privately owned and run vaping business, it offers only the very best vape pens, e-juices and vaping products and makes sure that everything it offers has been rigorously tested before being put on the shelves.
Their extensive range is centred around their own outstanding lines of e-juices which include their Red Label signature range which is made only from top quality UK-sourced components and which is known for its excellent flavours and tastes.
Totally Wicked offers outstanding customer support since it puts its customers at the heart of all it does.
They are keen to offer help and advice about all aspects of vaping as well as with purchases from their physical stores or their website.
They have a telephone helpline and can also answer queries via email or through their online live chat system.
There are many options when it comes to buying from Totally Wicked.
The company offers its own unlimited standard delivery service within the UK at an affordable one-off annual fee.
Joining up to this delivery scheme also guarantees shoppers 15% of all their future orders as well as 5 free bottles of e-juice on signing up.
For those who would prefer not to register for this service, there is the choice of UK first class standard delivery with same day dispatch when ordering takes place before 12 Noon on weekdays.
Delivery takes place generally within three business days. This service comes free with all orders valued at more than £30.
First-class signed-for delivery service also comes free on orders worth more than £50.
For those who would rather choose a faster or overseas service, there is a Special Delivery Tracked option with a next working day delivery time, a European signed for standard delivery service within five business days and a Rest Of The World delivery service which is generally received within 10 working days.
These premium options, of course, come at an extra charge.  There are some countries to which Totally Wicked cannot now ship due to TRPR regulations. These are listed on the company's website.