There's no shortage of e-cig companies out there, but Socialites Zero is working hard to revolutionise the classic e-cig with their own innovative ideas.
Selling everything you need to get started with vaping, this retailer sells everything and anything from vape pens to key accessories to improve your vaping experience.
Whether you're looking for a starter kit, a new tank or a new flavour of e-juice, Socialites Zero can provide everything you need, and all backed up with decent customer service and speedy delivery.
Recommended starter kits:
Jac Vapour SERIES-S22
Designed in the UK using high-quality materials

No risk 14-day money-back guarantee and industry leading six month warranty

Perfect for beginners and new vapers
XEO VOID Vaporizer
An all-in-one vaping device that combines the latest technology with high-quality German design

Great choice for beginners and experienced vapers
Jac Vapour SERIES-S17
Simply screw in the coil, fill with e-liquid in less than 10 seconds, attach to battery and vape. It doesn't get easier than this

Perfect for beginners and new vapers
The Socialites 80/20 Expert Kit
This remarkable vaping kit gives sub ohm vapers a fantastic experience every time. The kit comes complete with a Socialites 80/20 Expert tank and a matching 80/20 Expert battery, so you've got everything you need to get started.
Designed with the needs of vapers in mind, the Socialities 80/20 tank has a bunch of great features.
For a start, it couldn't be easier to use – all you have to do to replace its coil is to unscrew the mouthpiece – there's no need to unscrew the tank itself.
This ensures that your skin never comes into any contact with the e-juice for your complete safety.
Also, thanks to the integrated Liquid Flow Control, it offers a frustration-free and economic vaping experience with no flooding.
Innokin Coolfire TC100 Kit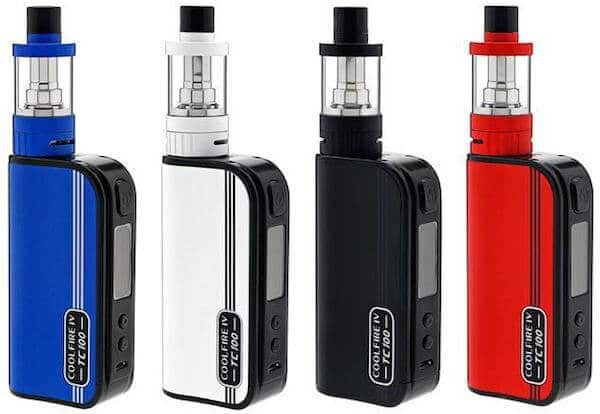 If you know anything about vaping, you'll have heard of the Innokin brand. This high-quality kit is perfect for sub-ohm vapers with a little more experience.
Powered with a super-fast AETHON advanced chipset and featuring ClearWave noise cancellation technology, this vape offers you an impressive 100W of power for an outstanding vaping experience.
Customising your experience is a breeze thanks to the variable TC system, and you can use the coils you like best since this model can accommodate stainless steel, titanium and Nickel200 coils.
This vape comes complete with an internal 3300mAh battery which lasts long enough to satisfy the needs of most vapers without needing to recharge, yet its compact design allows you to take it anywhere you need to go for your nicotine hit on the move.
Innokin Coolfire 4 Plus Kit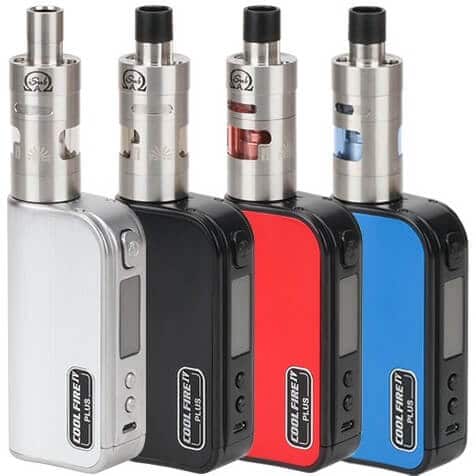 If you're looking for an all-day vaping solution, the Innokin Cool Fire IV Plus is a fantastic box mod thanks to the 3300mAh battery.
Producing 70W of power, this device allows you to adjust the resistance between 0.1 ohms and 3.5 ohms for a really customizable experience.
It's also a super-safe device with integrated overheating, over-discharging and short-circuiting protection built in.
Charging is a breeze with the included micro USB cable, and you won't have any trouble knowing when the battery needs a charge up thanks to the OLED display which also shows all the other details you need such as your volts, watts and coil resistance.
The tank included with this kit is an Innokin iSub-APEX tank, a durable and resilient model made from glass and stainless steel.
It's super simple to fill thanks to its top-filling easy-access mechanism. You'll get two 0.5 Ohm coil heads with this kit together with spare O rings, a user manual and a 510/Ego adaptor – pretty much everything you need to get started.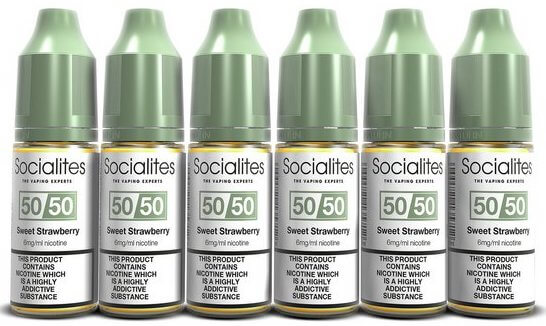 This range of e-juices is Socialites own brand, and while they come in at a really affordable price, they won't compromise on taste or quality.
There's a host of options to pick from – everything from classic tobacco to sweet strawberry and tangy pear drops.
They'll have your taste buds tingling! There are both 50:50 and 80:20 options available so there's sure to be something to suit you.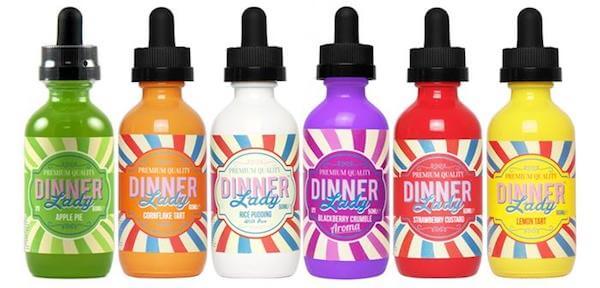 If your vaping experience isn't complete without a touch of the sweet and exotic, the Dinner Lady brand of e-juices is perfect for you.
This high-quality product line offers you a host of fruity and dessert-inspired flavours that are sure to satisfy vapers with the sweetest tooth!
Whether you long for the taste of good old-fashioned strawberry custard or whether you want to conjure up a taste of summer with Tan Mango, this exciting and delicious range of e-juices is affordable and tasty.
Mum's Home Baked E-Liquids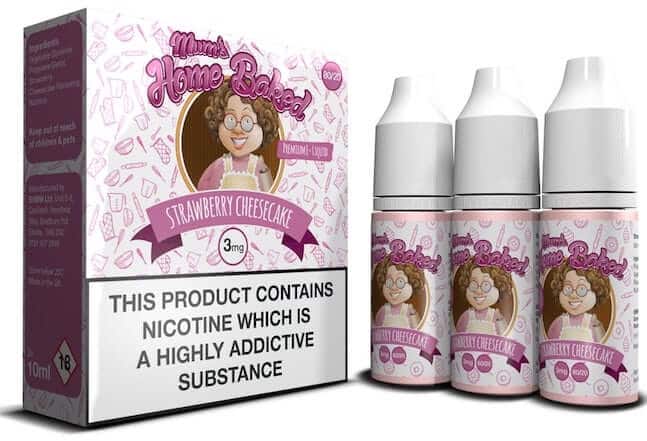 Take yourself back to the kitchen of your childhood with this range of best vape juices that are just as good as the desserts your Mum made!
As you might guess from the name, these e-liquids come in a host of delicious flavours that tantalise your tongue.
From glazed doughnut to butterscotch custard and from strawberry cheesecake to Black Forest tart, these e-juices are creamy, rich and decadent enough to enjoy at any time of day.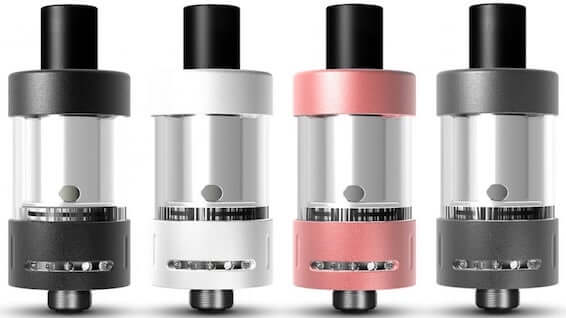 The Socialites 50/50 tank offers a pretty outstanding vaping experience for mouth to lung vapers.
Designed to address all the issues that vapers commonly experience with other devices, this tank features a Rapid Replace Coil System together with an integrated mouthpiece to form a sterile All-In-One system.
Every time the coil is changed, you'll get a new mouthpiece at the same time for a cleaner and much simpler vaping solution.
Even better, thanks to the integrated Liquid Flow Control, your coils won't get over-saturated, and their lifespan will be improved.
Engineered to offer the ultimate vaping experience, this tank has a premium quality finish which feels good in your hand.

The Eleaf brand is well known for its excellent quality products, and you won't be disappointed with this compact tank.
With a capacity of 2ml, this tank is made from strong and durable glass and comes with both 0.5 and 0.3 Ohm coils.
With its top-filling design, it's super easy and mess-free to use while its adjustable airflow lets you customise your experience for the perfect direct to lung vape.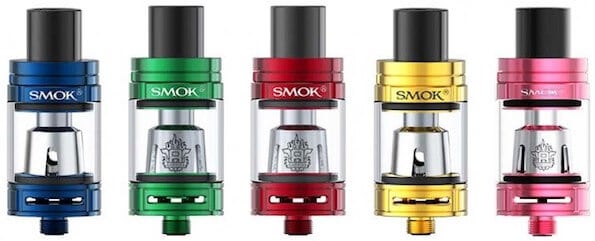 You'll no doubt have heard lots of positive things about the SMOK brand, and you've probably already heard of the SMOK TFV8 tank which is well-known for its impressive performance. It might be one of the best sub ohm tanks around.
This smaller version is just as impressive but a lot more compact.
It features an advanced airflow system and bottom air-slots, so you can adjust your experience to suit your preferences.
There is also a unique air chamber as well as a drip tip that has been re-designed specifically for this tank and which offers an excellent experience.
As this tank is a third smaller than its bigger sibling, it makes it easier to take your vape anywhere you need to go.
The Socialites Zero brand was first established back in 2012 and from humble beginnings has grown to become a strong contender in the UK vaping market.
From only six stores in its earliest days, Socialites Zero now has not only more than 75 stores across Holland and the UK but also a thriving online e-store.
Selling an extensive range of leading brand and home brand vaping devices, e cigarettes, accessories and e-liquids, Socialites Zero supports British made products, with all their own e-juices being manufactured at their very own UK factory using only high-quality pharmaceutical grade ingredients for the ultimate in safety.
You can expect decent quality customer service from Socialites Zero.
Their customer support offices are open Monday to Friday from 8am until 4pm, and they can either be telephoned during their opening hours, or you can send their customer care department an email at any time.
Socialites Zero offers a manufacturer's warranty against any faults, so if any product stops functioning properly during the appropriate warranty period, a free replacement is given.
All batteries come with a 2-month warranty, tanks with a 1-month warranty and chargers with a 3-month warranty.
All cartomizers and atomisers come with a seven-day warranty for your peace of mind.
When you order from Socialites Zero, you can expect your order to be dispatched in just 48 hours, with any Friday orders being dispatched via First Class Royal Mail Delivery on Monday after.
There is a free postage offer on any order worth over £25 and any larger orders worth more than £100 benefit from the Royal Mail Track & Trace delivery service for your peace of mind.
In the unlikely event that your item is lost in the post after 14 working days, Socialites Zero will replace the missing product free of charge.
Also, if any item is found to be faulty or damaged, this retailer will make a replacement completely free or give a total refund.