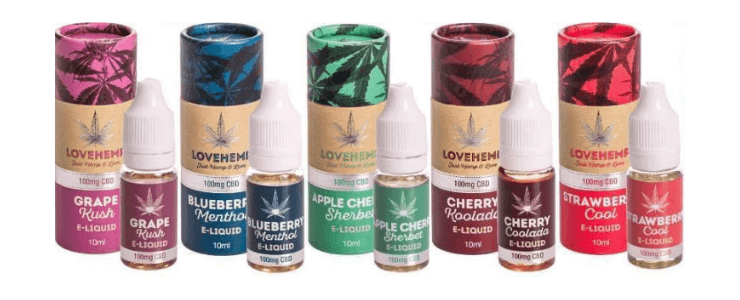 It seems like not a day goes by where I don't hear somebody mention CBD. It feels as though everyone has suddenly jumped onto this CBD trend at the same time, and for a good reason too.
CBD has been proven to have significant medical benefits to those that use it. In particular, CBD is often used to treat those with illnesses such as anxiety or depression due to its widely reported calming effects.
I was recently given the chance to review the Love Hemp CBD e-liquid range by the team at for the ageless. They sent me a variety of flavours and strengths to try and after a few weeks experimenting I thought I would share my thoughts.
Looking for the Best E-Liquid?
If you're looking for a vape that offers quality and luxury, then look no further than Love Hemp CBD e-liquid.
Give yourself the vape you deserve with signature delicious flavours in a smooth nicotine-free e-liquid. 
With Love Hemp, you'll never compromise on quality, ingredients or flavour again with 5 different flavours infused with the beneficial properties of CBD.
Treat yourself to a luxurious sensory experience, combining a smooth feel with an exciting taste, that only Love Hemp can provide.
Reflected in its name, Love Hemp CBD e-liquid is lovingly crafted with care and passion to bring you the best vape experience possible. 
Founded in 2015 by Tony Calamita and Thomas Rowland, Love Hemp CBD is an established, well-trusted e-liquid. 
Available in 5 distinct flavours, this e-liquid tastes perfect in any vape pen or device, with pure, recognisable flavours.
Gone are the days of artificial and clinical tasting vapes, as Love Hemp provides organic and purely farmed flavours, expertly crafted.
These CBD vape juices offer organically sourced e-liquids that are non-GMO, full cannabinoid, and THC free.
You can choose between two concentrations of CBD in your juice; 100mg or 300mg per 10ml. 
Farmed responsibly from high-quality hemp grown in Colorado, the CBD in Love Hemp e-liquids is produced from certified growers from Folium Biosciences.
Furthermore, once in the UK, the vape juices are rigorously tested in independent third-party laboratories, to meet 'Good Manufacturing Practice' (GMP) as outlined in government guidelines.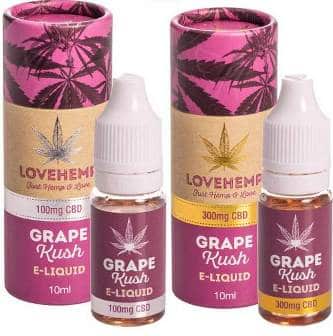 If a subtle, classic tasting vape is what you're looking for, this blend will be perfect for you.
While other formulas of grape can be overpowering and artificial, Love Hemp's recipe provides an understated but delicious fruity note. 
With hints of grape providing a mellow base, the flavour builds over time in this meticulously crafted flavour sensation for a relaxing experience.
Reminiscent of sweet grape sodas, the fruit undertones create a welcoming and light flavour for those craving a sweet but subtle escape.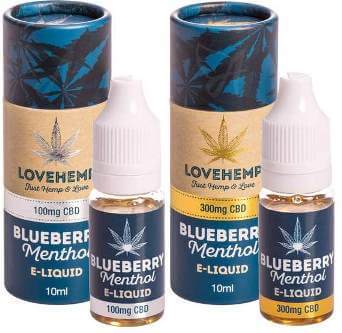 For a cool blend that is as delicious as it is refreshing, choose the Blueberry Menthol flavour.
A satisfying burst of minty excellence excites the tongue, matched expertly with the tart crispness of the sweet blueberry. 
It is not often that two flavours blend so elegantly while providing the distinct taste of both elements.
Highlighting the essence of each flavour, the blueberry and menthol complement each other to provide a bright and powerful flavour combination. 
For your perfect get up and go flavour to start your day right, or to give yourself a much-needed boost during the day, you must try the Blueberry Menthol from Love Hemp.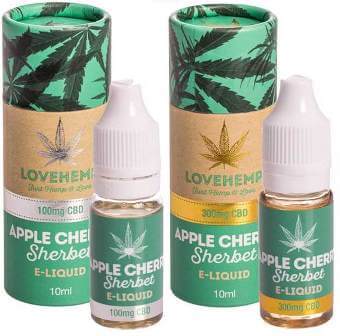 For a sharp treat that tantalises the tongue, you need to experience the sensation of Apple Cherry Sherbet.
Combining the zingy fruits of cherry and apple and enhancing them with the sweet flavour of sherbet, this vape juice gives you a surprising and tingly taste. 
Be transported back to your childhood with the perfect blend of fruity notes to sweet sugary sherbet, that creates a mouth-watering memory of a beloved childhood treat. 
This flavour is perfect for those summer fun-filled weekends, as well as a refreshing pick-me-up through the week.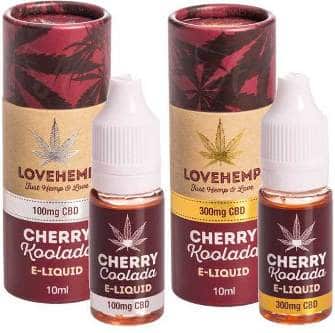 For a decadent sensory experience with pure, crisp flavours, you simply must try Cherry Koolada.
Excite your tastebuds with this rich flavoursome cherry creation that will really be the cherry on top of your vape experience. 
With fresh fruity notes that delivers full-bodied flavour, Love Hemp's creation will never leave you with the artificial after-taste that sub-standard e-liquids often do. 
One smell of this vapour and you'll be enamoured by the luxurious scents, inviting you to try more, and the taste will leave you wondering why cherry vape has never been so vibrant and delightful before.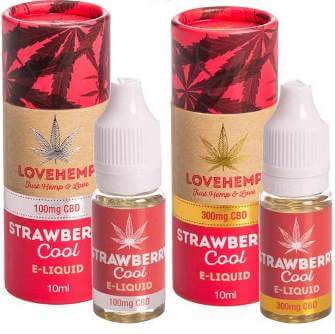 If you're looking for an indulgent, rich and full-bodied experience, then Strawberry Cool is the flavour to choose.
With a creamy overtone and luxurious sweetness that cannot be matched, this strawberry sensation is a fruity dream like no other. 
A quintessential summer favourite, strawberries and cream are a pairing that needs no explanation, captured perfectly by Love Hemp's Strawberry Cool.
A decadent experience from first to last taste, for when you deserve something special that will elevate your whole day with its sultry-sweet sensation. 
The world of e-liquids can be confusing, and time and again, people are left with sub-par flavours and poor quality vape juices that fail to satisfy. Love Hemp changes all that. 
The e-liquids themselves are appealingly packaged, with clear labelling and vibrant colours. 
The flavours are beyond compare, with unmistakeable tastes that provide satisfying sensations every time. No matter which flavour you choose, you will never be disappointed.
Whether you're a newcomer to the CBD e-liquid world or a seasoned veteran, you will not find a better product for taste or quality than Love Hemp CBD e-liquids.